November 6, 2019
Michael Apley recognized as Professor of the Week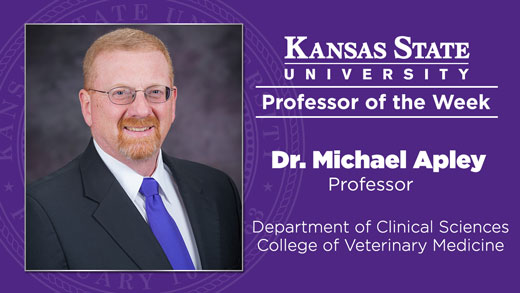 Michael Apley, Frick professor of production medicine and clinical pharmacology in the College of Veterinary Medicine, was named Professor of the Week. Apley was recognized at the Nov. 5 men's home basketball game.
Apley joined the College of Veterinary Medicine in August 2005 with board certification as a diplomate of the American College of Veterinary Clinical Pharmacology. He is an expert in the fields of pharmacology, especially antimicrobial resistance, as well as food animal medicine.
Apley teaches in the areas of food animal medicine, feedlot production medicine and veterinary pharmacology and beef science in the animal sciences department. He is also the course coordinator for CS779: Clinical Pharmacology and CS 769: Advanced Feedlot Production Management.
Apley is active as a graduate student and residency training advisory, serving as the major professor for eight doctoral students and as a graduate faculty committee member for another 31 graduate students.
In terms of scholarship, Apley is very accomplished. He is currently the primary investigator for a $1.5 million project, "Characterization of antimicrobial use in beef feedlots and dairies," funded by the U.S. Department of Health and Human Services, Food and Drug Administration Center for Veterinary Medicine. In sponsored research, he is/was the principal investigator or co-principal investigator for projects totaling more than $4 million. Apley is also accomplished in his publications with 73 refereed manuscripts, more than 100 press interviews, 58 refereed publications, 21 book chapters, 16 published abstracts and 50 proceedings.
Apley serves on numerous committees, task forces and expert panels at the department, college, university and national levels. He is currently serving on the executive board as the past president for the American Association of Bovine Practitioners and is the chair of the antimicrobial resistance policy advisory group for the National Cattlemen's Beef Association. Apley has received the honor as a voting member of the Presidential Advisory Council on Combating Antibiotic-Resistant Bacteria in Washington, D.C.
The Professor of the Week recognition is coordinated by Faculty Senate, the president's office, K-State Athletics and the Division of Communications and Marketing. Recipients are faculty members selected by Faculty Senate caucuses. Those selected are provided tickets to a men's home basketball game of their choosing and are recognized during halftime. This is a small token of appreciation for those who teach at K-State.