October 29, 2019
Donating to Cats' Cupboard just got even easier
Submitted by Sarah McGreer Hoyt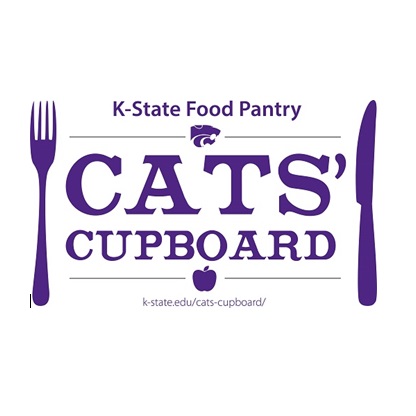 Headed to the K-State Rec Center for a workout? Now you can do something good for your health and for your fellow Wildcats at the same time.
The Chester E. Peters Recreation Complex now features a Cats' Cupboard drop-off spot. The new location is just inside the Rec Center's north entrance — the doors closest to Kimball Avenue. Go through the gates, make a slight left turn, and deposit your contribution for Cats' Cupboard at the large drop-off counter.
Whether you'd like to give nonperishable food, hygiene items, or new cold weather accessories like hats, mittens, or gloves, you can simply leave them there during Rec Center hours.
Thank you to everyone at the Rec Center who made the new drop-off location possible. If you don't frequent the Rec, you can also leave donations at Cats' Cupboard in 9 Fairchild Hall, at the K-State Student Union drop-off bin just outside the Wildcat Den convenience store, or in Family Studies and Human Services, 245 Justin Hall.
Can't make it to campus? We accept donations online via our Amazon wish list. All K-State students and employees are able to use Cats' Cupboard: The K-State Food Pantry. Visitors are encouraged to take food that corresponds with their personal needs, and they may visit the pantry as often as they see fit. Hygiene items and cooking equipment are also available for students.
For more information, visit k-state.edu/cats-cupboard or call 785-532-0366.