October 15, 2019
Porath makes two presentations at international conference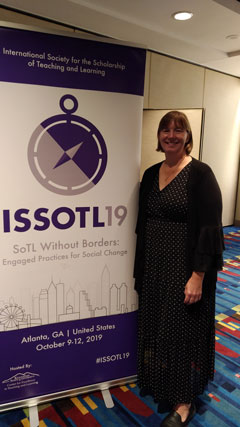 Suzanne Porath, College of Education assistant professor of curriculum and instruction, presented recently at the International Society for the Scholarship of Teaching Learning conference in Atlanta.
The titles of her presentations were "Developing a Critical Lens of Diversity Through Text Sets" and "Developing Reflective Practice Through Peer-Supported Discussion Board Reflections."
The multiple disciplinary, international conference supports faculty, staff and students who are interested in conducting researching on teaching and learning in higher education.
Porath was selected to participate in the International Collaborative Writing Group project before the conference in which scholars with similar interests collaborated to investigate an area of interest and develop a publication. Her group explored the scholarship of teaching, not learning.