August 28, 2019
Access free textbooks through K-State Libraries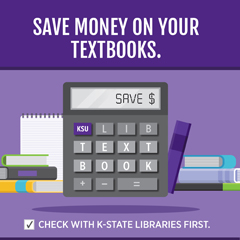 K-State Libraries has once again increased the number of textbooks that you can borrow for free from its reserve collection.
If you've never used course reserves, here are the basics:
Many textbooks and classroom materials are on reserve at one of three Library Help Desks — Library Help in the K-State Student Union, the Math/Physics Library or the Paul Weigel Library of Architecture, Planning & Design — so all students can have access to them at no cost. Some have been purchased through the Textbook Affordability Program, and others are loaned by the course instructor.
If you want to know if your textbook is on reserves:
To borrow what you need, bring your K-State ID and course code to a library help desk to check it out. For example, if you're taking Expository Writing II, let the library employee know you need the material for ENGL 200. It's also important to know your instructor's last name.
You'll be able to check out the material under the conditions specified by your instructor — usually two hours. Free scanners are available if you want to scan the portion of the text you need.
If you don't find your textbook, there are several things you can do to get it added to our reserves collection: