Staley School of Leadership Studies selects second cohort of Cargill Fellows
Wednesday, Aug. 28, 2019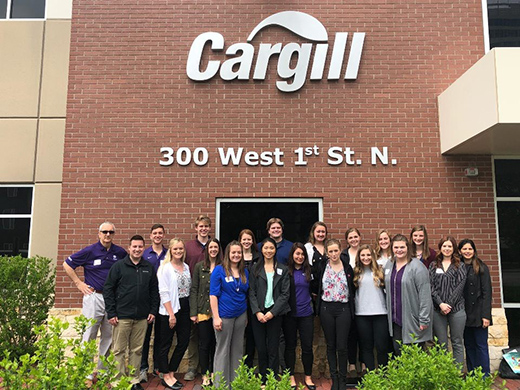 Kansas State University's Cargill Fellows, front row from left: Cale Hupe, Allison Bertz, Claire McClellan, Gracyn Higley, Victoria Eastman, Nancy Lopez Rodriguez, Haley Smith, Diana El-Koubysi, Samantha Fischer, Katelyn Mullen and Roberta Maldonado Franzen, advisor; and back row from left: Scott Eilert, Jaden Castinado, Andrew Dorsch, Dyllan Boykin, Christopher White, Kasey Kerperin, Maria Traskowsky, Payton Best and MiKayla Deters. Not pictured is Aryan Tayal. | Download this photo.


MANHATTAN — The Staley School of Leadership Studies at Kansas State University, in partnership with Cargill, has selected 19 students as the second cohort of Cargill Fellows.
The Cargill Fellows program at K-State creates a supportive environment to prepare and empower students to exercise leadership in their communities and global workplaces. Fellows are students in the College of Agriculture, College of Business Administration and the Carl R. Ice College of Engineering with an interest in professions that help nourish the world.

The fellows program provides students with a yearlong leadership development experience and the preparation to begin their career with a unique advantage beyond their technical preparation. Their exposure to and practice with skills such as adapting to change, engaging in diverse environments and critical thinking will cultivate professional competencies that will prepare them for a successful launch into industry.

The following K-State students have been selected for the program:

Victoria Eastman, junior in biological systems engineering, Andover; Gracyn Higley, sophomore in animal sciences and industry, Atwood; Haley Smith, junior in human resource management, Derby; MiKayla Deters, junior in agribusiness, Fairview; Maria Traskowsky, junior in computer science, Herington; Nancy Lopez Rodriguez, junior in finance and accounting, Liberal; Christopher White, junior in agribusiness, Maize; Katelyn Mullen, junior in finance, Oakley; Jaden Castinado, senior in food science and industry, and global food systems leadership, and Aryan Tayal, junior in computer engineering, both from Overland Park; Claire McClellan, junior in bakery science and management, Plainville; Samantha Fischer, junior in food science and industry, and global food systems leadership, Silver Lake; Diana El-Koubysi, junior in industrial engineering, Topeka; and Cale Hupe, junior in marketing, Wamego.

From out of state: Andrew Dorsch, junior in bakery science and management, and food science, Fort Collins, Colorado; Kasey Kerperin, junior in agronomy, Jefferson City, Missouri; Allison Bertz, junior in agriculture communication and journalism, Mayview Missouri; Payton Best, junior in civil engineering, Grand Island, Nebraska; and Dyllan Boykin, junior in chemical engineering, Granbury, Texas.

For more information on the Cargill Fellows or to learn about how to get involved or support the program, contact Roberta Maldonado Franzen at 785-532-6085 or rfranzen@k-state.edu.