A New Way to Learn & Practice Leadership
Experience K-State's innovative leadership development program. At the Staley School of Leadership Studies you will grow your knowledge of self and group dynamics. You will exhibit boldness as you engage in caring acts of service. You will foster ethical decision-making through critical thinking, and cultivate inclusion as you appreciate the diversity among us. Equipped with these skills, you will create change and influence our businesses, organizations, and communities in a positive way.
Your Path to Leading Change
The Staley School of Leadership Studies offers K-State students a variety of academic programs including an undergraduate minor with a standard and nonprofit focus; a secondary major in Global Food Systems Leadership; a doctorate program in Leadership Communication; and a graduate-level leadership development program. Students will also find a wide range of programs that focus on strengthening your talents and passions to make positive change in your work and community life.
Minor in Leadership Studies
If you are an incoming or transfer student preparing for orientation and enrollment and wish to learn more about how our unique coursework combines theory and practice with an emphasis on personal leadership development, view the minor in leadership studies.
Support Coach Bill Snyder's Leadership Legacy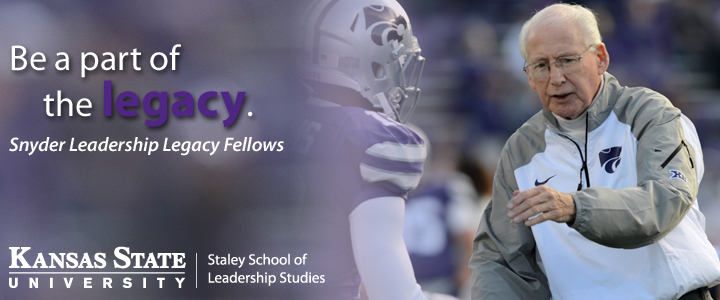 Learn more about the Snyder Leadership Legacy.
Director's Note
Greetings from the Staley School of Leadership Studies!
This time of year is always full of energy and excitement on K-State's campus. We are celebrating another class of graduates – including our first in the Global Foods Systems Leadership secondary major this past December – that are ready to exercise leadership in today's ever-changing world. We are so very proud of their Wildcat accomplishments and look forward to supporting their pursuits.
Students in our new interdisciplinary doctoral program in Leadership Communication are winding down their first year of study. We invite you to learn more about their meaningful research endeavors.