Furniture Amnesty Day will take place Friday, July 29th!
HandsOn Kansas State, Manhattan Good Neighbors and the City of Manhattan are teaming up once again to sponsor Furniture Amnesty Day. Furniture Amnesty Day (FAD) is a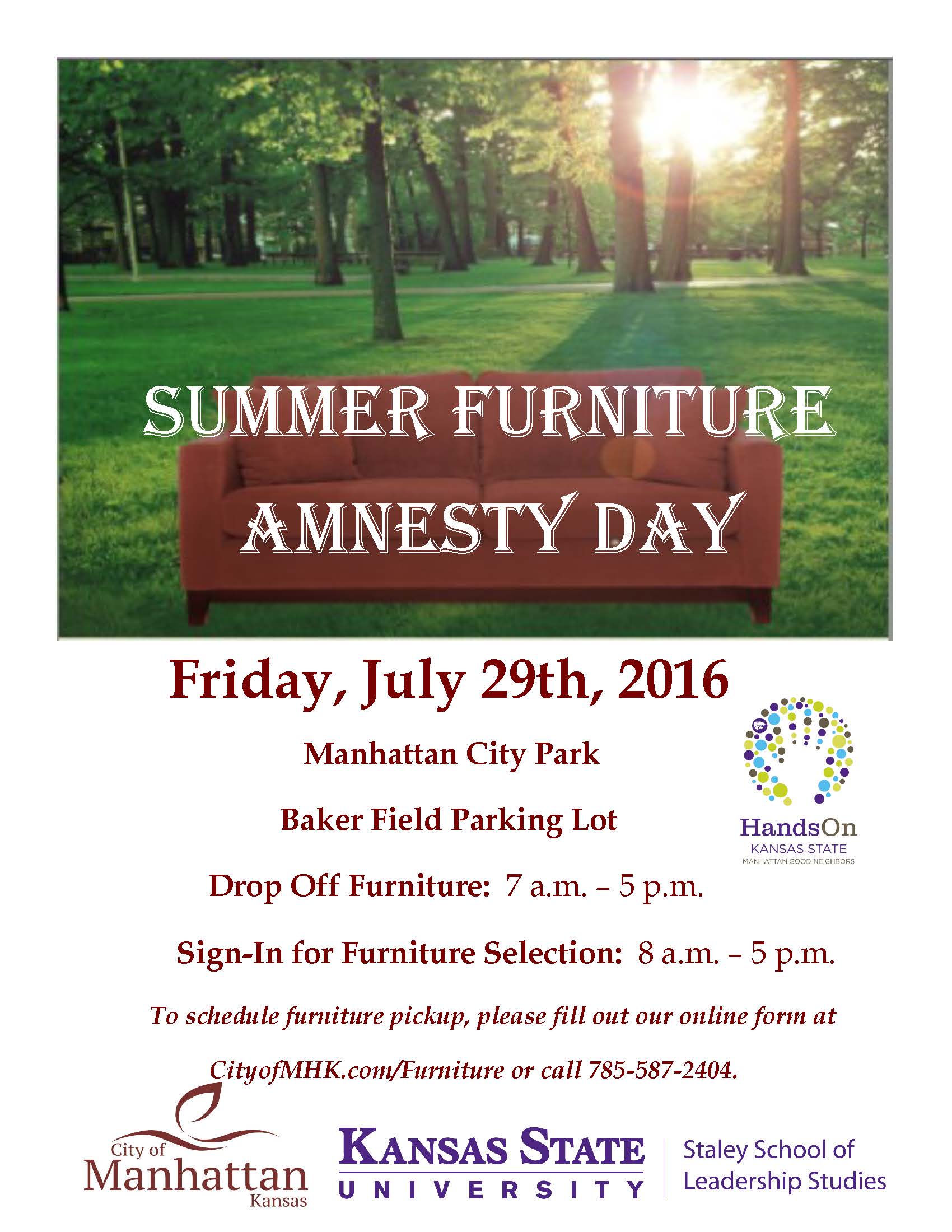 community-wide event held during the summer. This summer, FAD will take place on Friday, July 29 in the Baker Field parking lot in City Park. To donate furniture, schedule a pickup by filling out our online form or calling 785-587-2404. FAD's purpose is to reduce the amount of unwanted furniture by fostering an opportunity for neighbors to help neighbors. Rather than improperly disposing of unwanted furniture, citizens can recycle and reuse furniture to Manhattan residents and K-State students in need through this event.
As this event grows, the need for more volunteers grows as well. Volunteers can sign up through the HandsOn Kansas State web sign up at: http://bit.ly/HOKS_signup. Fill in the Volunteer Information and select Furniture Amnesty Day. For more information or have any questions please email mgn@ksu.edu.
Enrolling Now for January 2017: Certificate in Community-Engaged Leadership

The Mary Lynn and Warren Staley School of Leadership Studies at Kansas State University and Points of Light have partnered to offer students a 1 year, 12 credit hour undergraduate Certificate in Community-Engaged Leadership. The program cultivates a model of leadership consistent with the principles of partnership, reciprocity, and mutual benefit. The certificate is available to anyone with a passion for creating positive community impact and is ideal for undergraduate students, those working with nonprofits, or national service members. All courses are delivered virtually, and community-based service is integrated throughout.