May 15, 2019
Location change for First-generation Student Graduation Reception
Submitted by First-generation graduation reception committee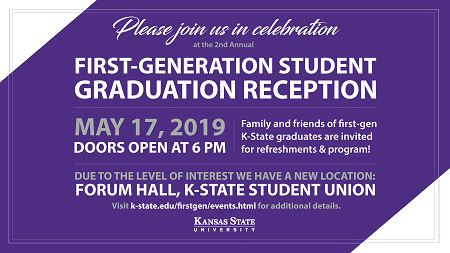 Due to the level of interest for the second First-generation Student Graduation Reception, the location of this event has been changed. The event will take place Friday, May 17, in Forum Hall on the ground floor at the K-State Student Union. Doors will open at 6 p.m. and the program begins at 6:30 p.m.
Graduates will have reserved seating, and guests will be seated first-come, first-served. Overflow seating is available in the Wildcat Chamber on the first floor of the Union.
We look forward to celebrating with our first-generation students and family. #FirstGenCats
Information about the celebration can be found online.