May 15, 2019
Support agreement between K-State and Fort Riley advances archaeological surveys
Submitted by Communications and Marketing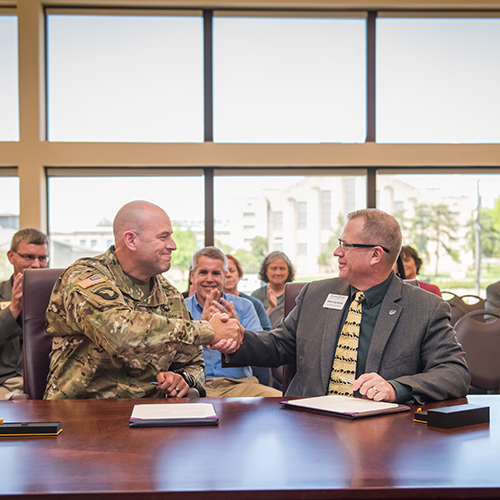 A new partnership between Fort Riley and Kansas State University paves the way for archaeological site surveys on the military installation.
Fort Riley Garrison Commander Col. Stephen Shrader and Kansas State University Vice President for Research Peter Dorhout signed an intergovernmental support agreement on May 13. This is the first support agreement between the two government agencies. During the five-year agreement, university archaeologists will evaluate and analyze Fort Riley property never surveyed before as directed by Fort Riley's cultural resources archeologist.

"The signing of this agreement with Kansas State University is yet another example of the community of partnerships that makes Fort Riley a great place to live, train, deploy from, and return home to," Shrader said. "While Fort Riley and K-State have multiple well-established partnerships, this marks the first time the two organizations are partnering through an intergovernmental support agreement. This partnership is being highlighted as a best-practice to other Army installations, and I am extremely proud of the collaboration between Kansas State University professionals and Fort Riley professionals to perform these mutually beneficial archeological surveys."

"Our relationship with the Army and Fort Riley continues to be strengthened by partnerships like this intergovernmental support agreement," Dorhout said. "The research we conduct in conjunction with the cultural archeologist will help all people understand more about and honor those who lived in this beautiful Kansas River valley and the Flint Hills before European settlers came here. This is important work for both K-State and the Army to undertake in a careful and thoughtful manner, and we are honored to be part of it."

Site work will begin next month and is being led by Lauren Ritterbush, K-State professor with the sociology, anthropology, and social work department in the College of Arts and Sciences.