May 15, 2019
Entertainment marketing recognizes student achievement at awards event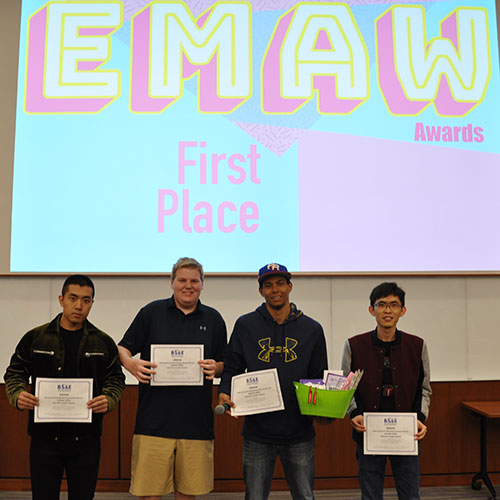 Twenty students won prize packages totaling more than $1,000 from more than 20 sponsors at the Entertainment Marketing Award Winners, or EMAW, ceremonies on Thursday, May 9.
In total, 123 students in the Marketing 625 Entertainment Marketing course developed, produced and executed the live awards event to recognize their work on a semesterlong culminating project. During the ceremonies, K-State student groups On-The-Spot, an improve troupe, and Cadence, an all-male a cappella group, performed. Six local food companies provided refreshments.
Throughout the semester, students created marketing strategies for an upcoming event ranging from movies, festivals and sporting events. By developing a plan for a not-yet-released entertainment product, students got the feel for planning an actual event.
Along with students' written reports, each team prepared videos summarizing their plans. From these videos, the public voted for the People's Choice award, with more than 885 votes cast. Entertainment and marketing executives with a combined 35 years of experience judged the grand prize and second prize winners.
The EMAW Industry Award grand prize winners were Lumeng Chao, Hongzhi Chen, Michael Rivera Santana and Andrew Winter for their plan for the movie "Kingsman 3." The winners of the EMAW Industry Runner-up Award were Sophia Hanson, Ashlyn Helus, Josie Hendrickson, Drew Kramer and Jennifer Morgan for their plan for the movie "Frozen 2." The People's Choice winners were Cameron Greenfield, Robert Miller, Paige Reed, Ashlyn Ries, Matthew Zajic and Joshua Zillner for their plan around the movie "Star Wars Episode 9."
In preparing for the award ceremonies, team leaders nominated eight students for their exceptional work and received prizes. These winners were Lumeng Chao, Jesse Chen, Kyleigh Conkling, Drew Kramer, Mark Ogren, Fiorella Pavetti, Nicole Sanchez and Michael Rivera Santana.
"When planning an upcoming event, there are a lot of unknowns," said Janis Crow, the course instructor. "At the beginning, students are unsure of how everything will work out. Then, toward the end, things start to make sense. Student can use these reports as examples of their work to show to future employers."
The Entertainment Marketing course is part of the newly-developed business of sports and entertainment certificate open to all university students. The spring Business of Sports and Entertainment Speaker Series offered eight presentations from entertainment companies, including Country Stampede, The American Theatre Guild, and AMC Theatres and marketing companies of Nielsen, JNT Company, and Bernstein-Rein.
Next fall, the Business of Sports and Entertainment program offers the MKTG 630 Sports Marketing course with a speaker series featuring a lineup of sports organizations and firms that market through sports. All presentations are open to the public and in the College of Business Building's lecture hall.