April 24, 2019
Jessica Heier Stamm to present electrical and computer engineering seminar April 25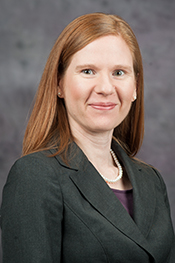 Jessica Heier Stamm, associate professor, and Steve Hsu, Keystone Research faculty scholar in the industrial and manufacturing systems engineering department, will present "Measuring the impact of public health supply chain coordination structures on the effectiveness of disaster preparedness and response" at 3:30 p.m. Thursday, April 25, in 1109 Engineering Hall.
Heier Stamm holds a Bachelor of Science in industrial engineering from Kansas State University and a doctorate in industrial and systems engineering from the Georgia Institute of Technology. Her research interests include the development of quantitative models and algorithms to design and improve humanitarian relief and public health logistics systems. In particular, she uses operations research and game theory tools to analyze systems in which decisions about system control are made in a decentralized way. In 2014, Heier Stamm was named a fellow in the National Science Foundation-funded Enabling the Next Generation of Hazards and Disasters Researchers program, and in 2017, she received an NSF CAREER Award.
Abstract: Coordination between public health and humanitarian organizations during disaster preparedness and response may improve efficiency, reduce duplication of effort, and lead to better outcomes for beneficiaries. However, coordination is difficult in large-scale preparedness and response efforts. This talk will highlight recent studies by our research group that characterize the negative impacts associated with lack of coordination and that identify cost-sharing mechanisms that facilitate coordination. Heier Stamm will describe modeling approaches based on optimization and game theory and illustrate the methods with data from international and domestic contexts.