April 24, 2019
Fitzsimmons awarded endowed professorship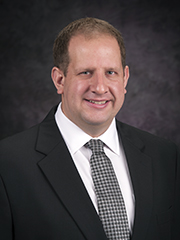 Eric Fitzsimmons, assistant professor of civil engineering, has been named a recipient of the Hal and Mary Siegele Professorship in Engineering, effective July 1.
The award is created through funds to honor Hal and Mary Siegele on the campus of Kansas State University, and to recruit and retain the highest quality faculty in the Carl R. Ice College of Engineering. Both Kansas State University alumni, the late Hal Siegele was a 1947 graduate in chemical engineering, and his wife, Mary, a 1948 graduate in arts and sciences.
As a recipient of the Siegele professorship, Fitzsimmons will receive flexible funding annually for five years designated for research equipment and supplies, support of personnel involved in his research, professional travel and summer salary.
Fitzsimmons joined the civil engineering faculty in 2014 after three years of postdoctoral training at the University of Kansas. He received his bachelor's, master's and doctoral degrees, all in civil engineering, from Iowa State University.
A member of the transportation/materials faculty group, his research interests include highway safety and operation in both rural and urban environments. Thus far he has received more than $3.3 million in research support in the areas of work zone safety, railroad engineering, intersection safety and traffic law enforcement. In 2018, he received an Early Career award from the U.S. Department of Justice.
Fitzsimmons has authored more than 65 journal articles, papers and research reports. He has one patent to his credit and has made presentations at various local, state, regional, national and international forums. Two of his graduate students have won Dwight D. Eisenhower fellowships from the U.S. Department of Transportation.
He is a member of three standing committees of the Transportation Research Board, a division of the National Academies of Sciences, Engineering and Medicine. He also serves as a panel member for multiple National Cooperative Highway Research Program and Behavioral Traffic Safety Cooperative Research Program projects.
A champion for safer roadways in Kansas as part of the federally funded Traffic Assistance Services for Kansas, or TASK, he offers outreach classes on traffic safety to various constituents, including non-engineers. He is director of the annual Kansas Transportation Engineering Conference — a more than I00-year-old meeting of transportation professionals in Kansas and Missouri, and is a licensed professional engineer in the state of Kansas.