March 21, 2019
Noted soil fertility professor to speak on the critical role of extension on March 25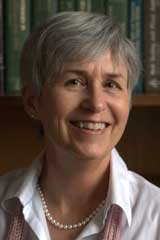 Nationally recognized soil scientist Deanna Osmond will present the 37th annual Roscoe Ellis Jr. Lectureship in Soil Science at 4 p.m. Monday, March 25, in 1018 Throckmorton Hall on the campus of Kansas State University. The title of the lecture is "Extension made my career fun and relevant: Nutrient management, conservation practices, and water quality."
The lecture is open to the campus community and public.
Osmond is a professor of soil fertility, associate department head, and extension leader in the North Carolina State University crop and soil science department. She earned a bachelor's degree in agronomy and anthropology from K-State, master's in soil science from North Carolina State University and doctorate in agronomy from Cornell University.
Osmond works at the interface of nutrient management, conservation practices and water quality. Her research is focused on agricultural production, reduction of agricultural pollutants through the use of conservation practices including riparian buffers, and the development of decision support systems that function both at the watershed-scale and are applicable to field-scale soil fertility issues. These systems are designed to allow for maximum user flexibility, yet provide reliable information and answers.
For the past 25 years, she has conducted field- and watershed-scale experiments to find conservation practices, including nutrient management, that reduce nutrient loading, especially in impaired watersheds. As an extension specialist, she provides these research results to farmers, agency personnel, and citizens. She has led several national and regional projects to determine the effectiveness of conservation efforts at the watershed scale and transferred the lessons learned to multiple stakeholders.
Osmond is a fellow of the American Society of Agronomy, or ASA, and the Soil Science Society of America. She is a recipient of the ASA Distinguished Service Award. Other notable awards include the ASA Agronomic Extension Education Award, Distinguished Service Award from the Corn Growers Association of North Carolina, and the Professional Achievement Award in Water Quality from the Hugh Hammond Bennet Chapter of the Soil and Water Conservation Society.
Osmond also will present a technical seminar, "Chasing nitrogen from beginning to end: Current nitrogen rate recommendations," at 9:30 a.m. Tuesday, March 26, in 2002 Throckmorton Hall. Interested individuals are invited to attend.