College of Veterinary Medicine selects two students for elite scholarship

Thursday, March 21, 2019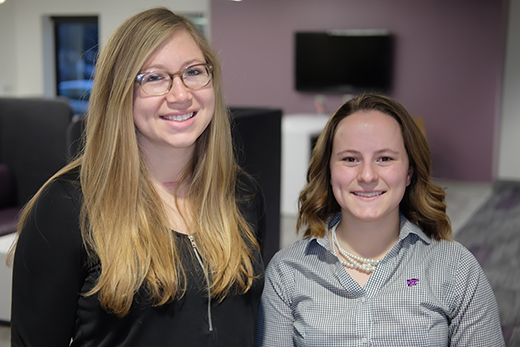 Elsie McCoy, left, and MaRyka Smith, both seeking a Doctor of Veterinary Medicine and a doctorate in pathobiology, have received the Doctor of Veterinary Medicine/Ph.D. Scholarship from the Kansas State University College of Veterinary Medicine. | Download this photo.


MANHATTAN — Two Kansas State University College of Veterinary Medicine students are receiving the college's concurrent Doctor of Veterinary Medicine/Ph.D. Scholarship.

Recipients are MaRyka Smith, Hoyt, a first-year veterinary student and in the pathobiology doctoral program; and Elsie McCoy, Sabetha, a third-year veterinary student who also is in the pathobiology doctoral program.

The concurrent scholarship program, which started in 2011, brings together clinical medicine and research disciplines to create unique opportunities and expand career options in veterinary medicine. Areas of graduate training include, but are not limited to, biomedical research, infectious disease, epidemiology and diagnostic medicine. The scholarship pays for the students' Doctor of Veterinary Medicine, or D.V.M., curriculum tuition and fees, regardless of residency status or when they receive the scholarship. Expenses for the students' doctoral graduate work are supported by their major professors.

"We have awarded as many as three scholarships for any given application cycle," said Frank Blecha, the college's associate dean for research. "Currently, there are 11 concurrent D.V.M. and doctoral program students enrolled in the College of Veterinary Medicine. Seven of these students have D.V.M./Ph.D. Scholarships from the college, and two students have scholarships from the U.S. Department of Agriculture Animal and Plant Health Inspection Service's NBAF Scientist Training Program. Five previous concurrent D.V.M./Ph.D. Scholarship students have matriculated from both degree programs."

Smith is studying the pathogenesis of Rift Valley fever virus under the mentorship of A. Sally Davis, assistant professor of diagnostic medicine and pathobiology.

"I am looking into the mechanisms that the virus employs to bind and enter cells," Smith said. "My first year as a doctoral student was as a Transboundary Animal Disease fellow at the university's Biosecurity Research Institute. Through the fellowship, I learned about the infrastructure and design of a facility like the NBAF, the National Bio and Agro-defense Facility, and simulated how to safely work with the pathogens that could be housed there."

Davis said Smith is an intellectually gifted student with the enthusiasm and motivation necessary to earn both a D.V.M. and a doctorate in pathobiology.

"Her sincere interest and dedication to becoming a veterinary scientist focused on addressing the many challenges presented by transboundary animal diseases, including zoonotic diseases, is admirable," Davis said. "Future veterinarians with such interests and dedication are vital to the continued protection of our food supply and have a significant role to play in public health. The D.V.M. scholarship will enable MaRyka to set aside her immediate financial concerns tied to the cost of her veterinary degree and focus on both her D.V.M. and pathobiology doctorate training."

After graduation, Smith would like to continue her work with transboundary and foreign animal diseases in a government laboratory.

"I hope to combine the data collecting and analyzing skills that I am learning in my pathobiology doctorate program with the clinical knowledge of my D.V.M. to make a difference in the lives of future animals and the humans that care for them both in the laboratory and in the field," Smith said. "This scholarship is hugely helpful for me to ensure that my education can continue. I also cannot put into words what it means to know that the college believes in me enough to support me in this way. Not having to worry about how I will pay my tuition each semester allows me to put that much more brainpower into my studies."

In her pathobiology doctorate program, McCoy focuses on beef cattle production research, primarily liver abscesses in feedlot cattle.

"I have conducted research looking at the effects of liver abscesses in feedlot cattle on meat quality and tenderness, and more recently have worked on safety and efficacy trials for an autogenous vaccine developed to reduce liver abscess prevalence in feedlot cattle," McCoy said.

"Elsie is a talented student but an even better person," said her mentor, Dan Thomson, Jones professor of production medicine in the College of Veterinary medicine. "Her passion for answers to practical questions, to cattle and to perfection are what make her such a great researcher. This type of program helps students offset costs associated with the added class work of completing a doctorate in pathobiology while attending veterinary school. It also allows us as faculty to fund positions to allow these incredibly talented people to chase their passions."

Following graduation, McCoy plans to enter a food animal-predominant private practice. She said the role of food animal practitioners increasingly includes a more broad animal health consultation component at a herd level.

"My pathobiology doctorate program has taught me the necessary skills to conduct research and analyze production data to solve industry problems in a way my D.V.M. program alone has not," McCoy said. "After gaining clinical experience in private practice, I would like to work in food animal production research, either through a corporate or governmental route. I believe that my time in private practice will prepare me to better understand the research and product development needs of veterinarians and producers."

McCoy said she is grateful for the scholarship.
"I am thankful for the opportunities that this scholarship affords me to focus on both veterinary and graduate school while relieving the financial stress associated with these programs," McCoy said. "My D.V.M. and pathobiology doctorate programs so far have each taught me different, unique skills to prepare me for my career in food animal production medicine."