March 8, 2019
Liang honored as emerging scholar by American Educational Research Association affiliate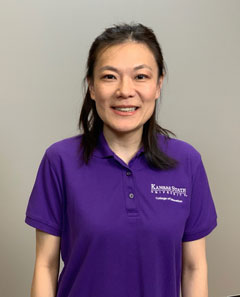 Jia Liang, College of Education assistant professor of educational leadership, was recently honored with the Emerging Scholar Award from the Eastern Educational Research Association.
The award was presented to Liang last month at the association's conference in Myrtle Beach, South Carolina. The award is reserved for scholars with a demonstrated accomplishment in teaching and student development and a record of accomplishment in the integration of teaching and/or theoretical research. In addition, candidates must have completed their terminal degree or attained their academic position no more than five years ago.
"This award is special to me because I have been a part of the organization since graduate school," Liang said. "I am honored by the recognition and also realize the honor exceeds me. As a woman of color, this award represents an honoring of diverse voices in education and educational leadership in particular. Such diverse voices are key to strengthening educational leadership as a field, and I look forward to more people doing such scholarship and being recognized for it."
Liang joined the faculty in 2015 and her research areas of interest include diversity, leadership development and capacity building in the STEM fields, especially in underrepresented populations.
The Eastern Educational Research Association is an organization for education professionals interested in conducting and disseminating research that improves education for all in both form and nonformal settings. The association is affiliated with the American Educational Research Association.