March 8, 2019
K-State Debate qualifies for National Debate Tournament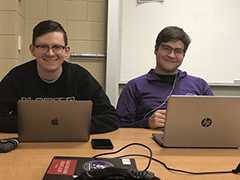 For the first time in three years, K-State is heading back to the National Debate Tournament.
K-State's policy debate team recently traveled to the University of Central Oklahoma for the National Debate Tournament District 3 Qualifier. District 3 is composed of teams from Kansas, Missouri, Oklahoma and Texas.
There, Kansas State EL, a team composed of Ben Engle, freshman in microbiology, and Sam Leyba, senior in philosophy, posted a 5-3 win-loss record, securing qualification for the 73rd National Debate Tournament.
The National Debate Tournament is the most prestigious debate tournament in the country for college policy debate. Only a select number of teams qualify for the tournament every year. The last time K-State qualified a team to the tournament was in 2016.
District 3 is the largest district in the country. Twenty-eight teams entered the tournament competing for 13 available spots to the National Debate Tournament. Before the tournament, all teams are ranked by the coaches in the district on the basis of their performance during the regular season, which helps determine the team's seeding going into the qualification.
Going into the tournament, K-State was ranked 21st out of 28 teams.
K-State won five of its eight debates at the tournament, defeating teams from Missouri State, the University of Texas at Dallas, University of Texas at San Antonio, University of Central Oklahoma, and University of Kansas. Engle and Leyba ended the tournament as the eighth-place team, jumping 13 places in the rankings to secure their ticket to the National Debate Tournament. The tournament will take place March 23-26 at the University of Minnesota in Minneapolis.
K-State Debate competes in both British Parliamentary Debate and National Debate Tournament/Cross Examination Debate Association-style policy debate. The K-State Debate team always looking for new debaters, and have room for debaters of all levels of experience. If you'd like to learn more about how to get involved with the team, contact Professor Alex McVey, director of debate, at jalexandermcvey@k-state.edu.