November 27, 2018
Reduce, reuse and recycle at the Union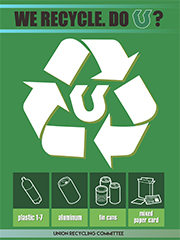 Recycling at the K-State Student Union involves more than a few pieces of paper and soda bottles. Union recycling bins are located throughout the building and can accept plastics No. 1-7, aluminum, tin and paper products.
Not sure if your trash is recyclable? Here are a few common examples of recyclable materials frequently found in the Union:
Plastic soda bottles, including lids.
Paper soda cups and straws.
Glass beverage bottles, including lids.
Unused napkins.
Cup carriers (cardboard trays).
Restaurant packaging, including:

Chick-fil-A paper bags.
Radina's cups, lids and cup sleeves.
Call Hall at the Union cups.
Fast Track containers.
An additional university recycling bin is located outside the south entrance.
The Union Recycling Committee encourages everyone to think about what can be reduced, reused or recycled before simply tossing it in the trash. During fall 2018 move-in, K-Staters recycled 13.83 tons of recyclable material. Take it even further by upcycling. Upcycling doesn't have to be complicated — it can be as simple as donating clothes you no longer want rather than tossing them in the dumpster. If you're ready to put this principle into action, donate new or lightly-used business professional attire to the Career Closet in the Berney Family Welcome Center. Food and hygiene items for the Cats' Cupboard food pantry can be left in the donation box to the right of the Cats' Den entrance. It doesn't take much to help the environment as well as your fellow Wildcats.