Each residence hall has a large roll off containers for recyclable material and trash. You can place all of the following in the recycle container: paper products, plastic material No. 1-7, aluminum/tin cans and cardboard. No glass is permitted in the containers. The landfill container takes all nonrecyclable material. There also is a canopy tent where you can place furniture and household and electronic items. Inside each residence hall, there are four large boxes where you can place the following items: clothing, blankets and pillows, nonperishable food items and books.
Living off campus? Drop off your recyclable items at the Recycling Center behind Weber Hall.
K-State students receive 'A' in recycling
Congratulations students! During fall 2018 move-in, K-Staters recycled 13.83 tons of recyclable material, which comprised of cardboard, paper products, plastic material No. 1-7 and aluminum cans, while only 5.85 tons went to the landfill.
In the five years that the Recycling Center has been exercising this effort, this was by far the best year with a more than 70.27 percent diversion rate for move-in.
With great coordination with students, housing and dining and recycling staff, we all make a difference.
Below is the history of move-in results.
Kansas State University
Move in recycling/refuse data
Date
Weight of recycling (tons)
Weight of refuse (tons)
Diversion rate
2014
3.53
7.7
31.4337
2015
6.23
8.48
42.3521
2016
11.3
14.53
43.7476
2017
7.54
4.5
62.62
2018
13.83
5.85
70.27
Recycling Center organizes recycling effort for 451 mattresses

The K-State Recycling Center is passionate about recycling and works with K-State departments to ensure old recyclable materials find renewed beginnings. The center recently worked with Housing and Dining Services to recycle 451 mattresses.
Though the center can recycle aluminum cans, paper, cardboard, glass and more, mattresses are a bit more difficult. Nevertheless, the recycling coordinator found an organization in the Greater Kansas City area that agreed to pick up, sanitize and redistribute these mattresses to children in need at no cost to the university. A team from Housing and Dining Services assisted in loading the 451 mattresses in the three-hour process. A job well done!
Recycling 2018 move-out results
K-Staters,
We had another great move-out year for recycling. During this time frame, the students recycled more than 1,490 pounds of bedding and clothes. All bedding went to the K-State Veterinary Health Center and the T. Russell Reitz Animal Shelter in Manhattan. We had a 77 percent increase in recycling from 2017 results and a 1 percent decrease in refuse. Thanks to Housing and Dining Services staff, recycling staff and the students, it was a job well done.
Below are the exact numbers:
Move-out data

2014

2015

2016

2017

2018

Clothes/bedding

397

796

936

1,241

1490

Books

117

139

132

1,576

960

Food

576

0

310

637

425

Recycle material

( Roll offs)

1,210

0

9,560

8,389

18,160

Total

2,300

935

10,938

11,843

21,045

Refuse total

59,500

56,860

42,440

42,100

41,680

Diversion rate

3.72 percent

1.61 percent

20.49 percent

21.95 percent

33.55 percent
Kansas State University is Big 12 champions in recycling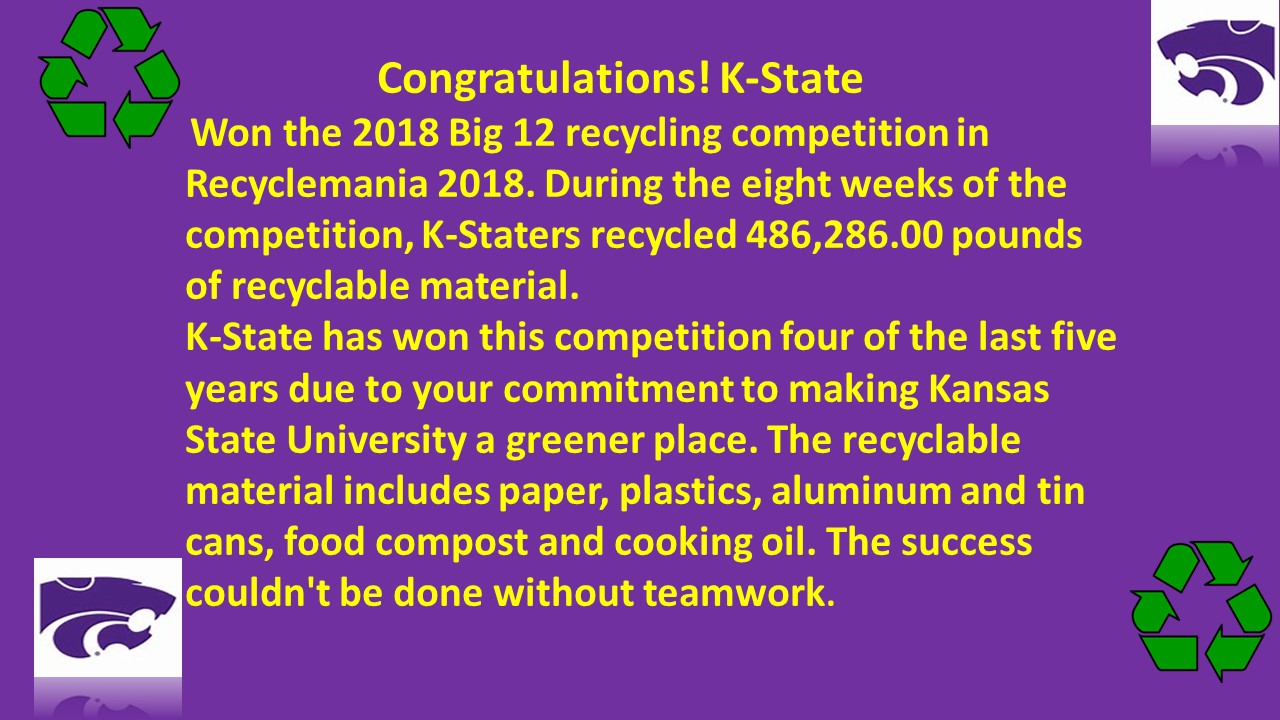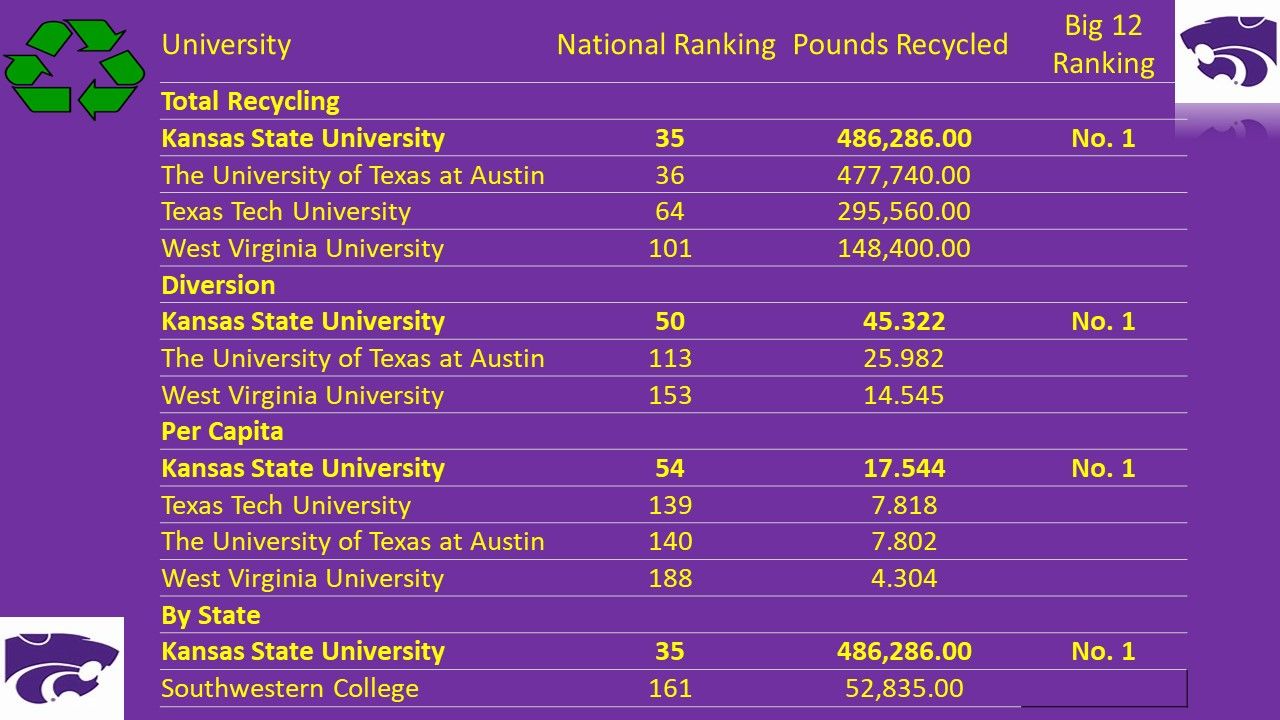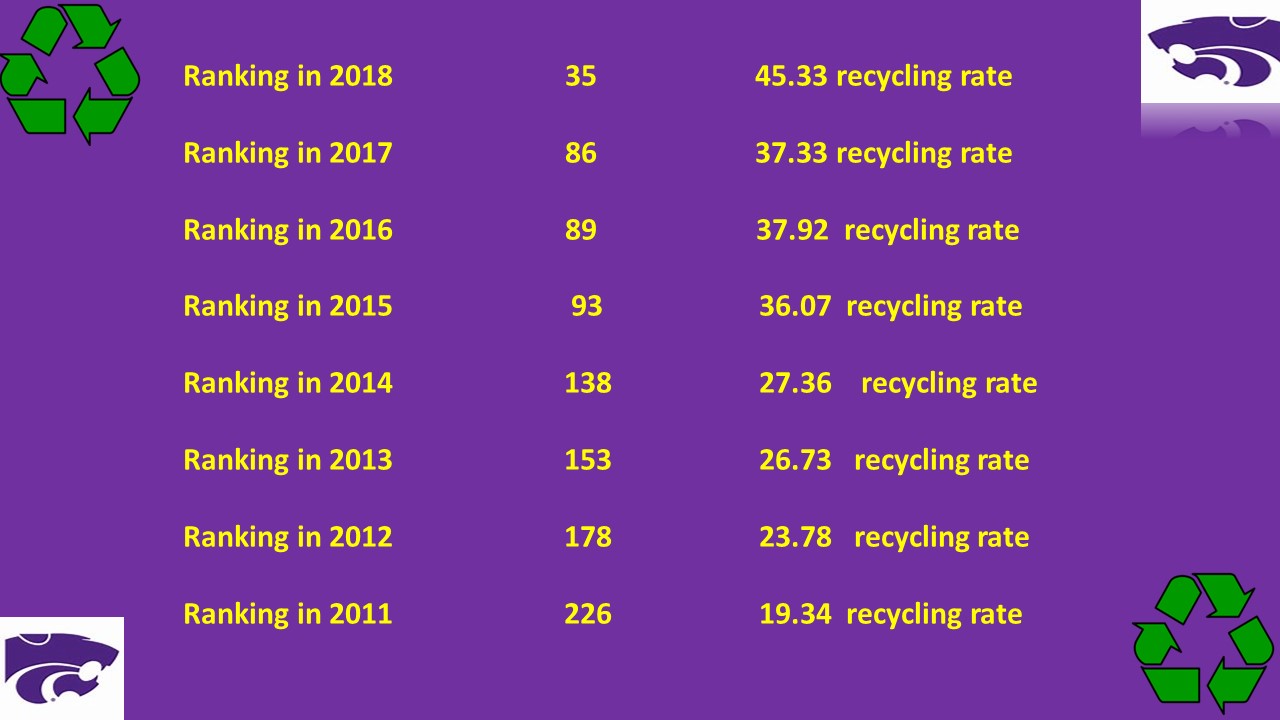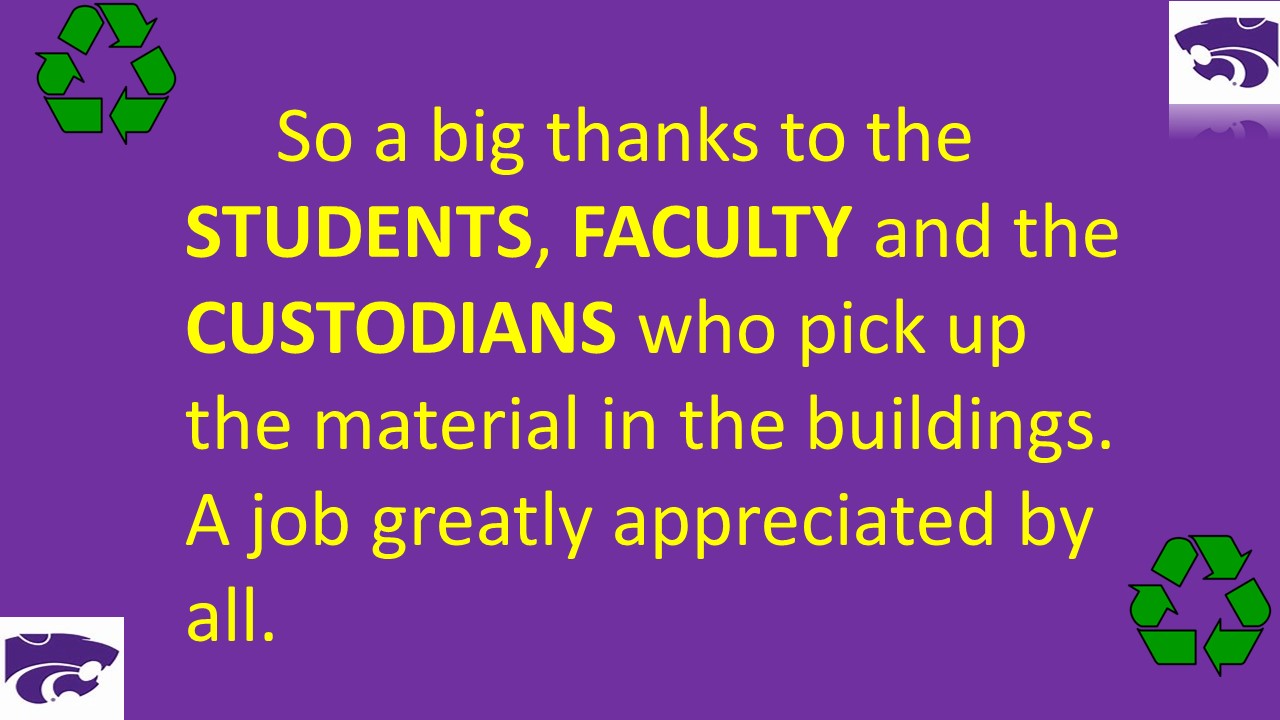 K-State Recycling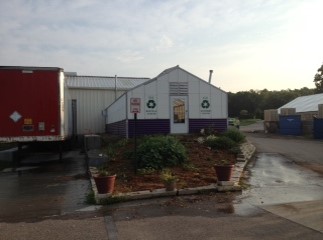 The Recycling Program (PDF) started in 1989 and is coordinated through the Division of Facilities. Grants from the Kansas Department of Health and Environment (KDHE), Alcoa, Pepsi, Coca Cola, and City/University funds made it possible to purchase recycling equipment, such as trailers, a side-load collection truck, collection bins, carts, and balers to process the material.
In 1998, the K-State Recycling Committee was formed, comprised of faculty, staff, student and Division of Facilities representatives. The committee's goal is to help expand recycling efforts across the campus and by doing so, create a more environmentally friendly campus, minimize the waste stream and decrease waste management costs.
In 2008, the former Wind Erosion Research building was damaged by a tornado and in 2012 became the new K-State Recycling Center.
---
K-State Recycling sponsored a float in the Mayor's Holiday Parade held on December 1st, 2107 in Manhattan. The float was built by Kelly and Mark Whitehair and Dianne and Bill Spiegel.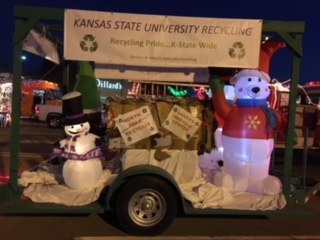 Greeks support Recycling Program at Kansas State University
By Bill Spiegel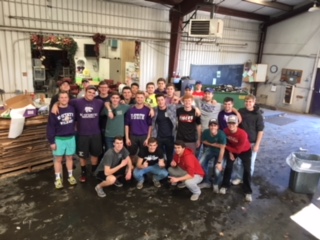 The K-State recycling staff thanks the 24 members of Beta Sigma Psi and Theta Xi fraternities for sorting 2,325 pounds of recyclable material in less than one hour on Sunday, Nov. 26, after the Wildcats' win over the Iowa State Cyclones Nov. 25.
This is a great tradition to finalize the great season that we both had and to keep the drive moving in the K-State Recycling Program throughout the year. Your time and dedication on Sunday shows a great effort and is very much appreciated by all.
K-State recycling project manager briefs state agencies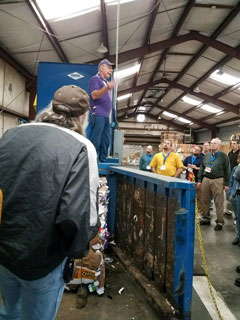 Bill Spiegel, K-State Recycling Center project manager, briefed more than 75 members of the Solid Waste Association of North America Oct. 4-5 at the Solid Waste Management Conference and Operator Training Course at the Hilton Garden Inn in Manhattan.
Spiegel spoke on various methods of recycling and reutilization at the university, including the day-to-day recycling of paper, cardboard and related material in the one-stop drop program, electronic waste methods and move-in/move-out programs. Spiegel also discussed the joint venture with Housing and Dining Services and the agronomy department with the reuse of compost and soil into the farm units, and the communication flow between student groups and administration being the foundation for this process.
"We all work together at the university in every way possible to make Kansas State University and the environment a more sustainable place," Spiegel said. "We all make a difference."
---