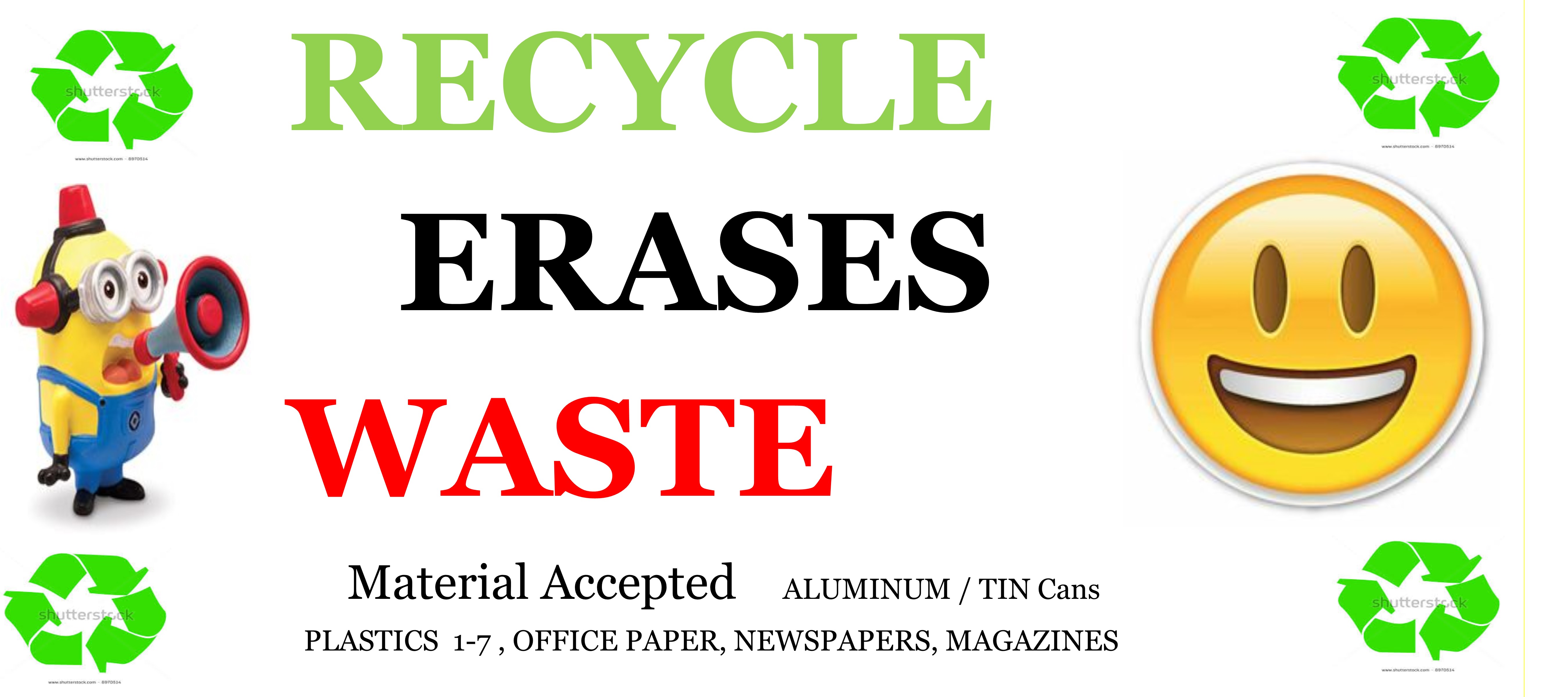 Each residence hall has a large roll off containers for recyclable material and trash. You can place all of the following in the recycle container: paper products, plastic material No. 1-7, aluminum/tin cans and cardboard. No glass is permitted in the containers. The landfill container takes all nonrecyclable material. There also is a canopy tent where you can place furniture and household and electronic items. Inside each residence hall, there are four large boxes where you can place the following items: clothing, blankets and pillows, nonperishable food items and books.
Living off campus? Drop off your recyclable items at the Recycling Center behind Weber Hall.
Recycling efforts off to great start after move-in
The K-State recycling team thanks all the students who moved into the residence hall over the past two weeks and made this university a more sustainable environment.
As shown in the chart below, K-Staters recycled 11.83 tons, or 22,460 pounds of recyclable material and only sent 1.81 tons, or 3,620 pounds of non-recyclable material to the landfill. This was K-State's best diversion rate since at least 2014 and it is impressive.
It's a great way to start the year and let's keep this great passion to recycle throughout the year.
Outstanding job!
Move-in recycling and refuse data
Date Weight of recycling Weight on-recyclable material Diversion rate
2014 3.53 7.7 31.43
2015 6.23 8.48 42.35
2016 11.3 14.53 43.74
2017 7.54 4.5 62.62
2018 13.83 5.85 70.27
2019 11.23 1.81 86.11
Recycling Center shares 2019 move-out results
K-State had another great move-out recycling campaign for 2019. During this year's move-out period, students recycled more than 2,501 pounds of bedding and clothes. All bedding went to the T. Russell Reitz Animal Shelter in Manhattan. All 675 pounds of food was donated to Cats' Cupboard for student use. We had an overall increase in recycling from the 2018 results and a slight increase in refuse. The Recycling Center thanks the Housing and Dining Services staff, recycling staff and students.
Below are the 2019 move out recycling numbers:
| | | | | | | |
| --- | --- | --- | --- | --- | --- | --- |
| Move out data, in pounds | 2014 | 2015 | 2016 | 2017 | 2018 | 2019 |
| Clothes/bedding | 397 | 796 | 936 | 1,241 | 1490 | 2501 |
| Books | 117 | 139 | 132 | 1,576 | 960 | 817 |
| Food | 576 | 0 | 310 | 637 | 425 | 675 |
| Recycle material | 1,210 | 0 | 9,560 | 8,389 | 18,160 | 22,240 |
| Total | 2,300 | 935 | 10,938 | 11,843 | 21,045 | 26,233 |
| Refuse total | 59,500 | 56,860 | 42,440 | 42,100 | 41,680 | 49,800 |
| Diversion rate | 3.72% | 1.61% | 20.49% | 21.95% | 33.55% | 34.50% |
Recycling supports 4-H Earth Week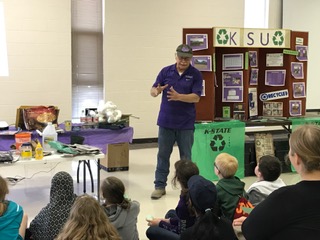 K-State recycling supported a local 4-H Earth workshop on recycling and sustainability related concerns. During the two-day event, more than 250 students had hands-on experiences to identify and implement proper recycling procedures. In addition, they also learned how recycling by-products help reduce items that go to landfills.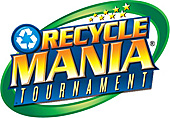 Recyclemania Final Results
Kansas State University students have won the Big 12 Recyclemania challenge for 2019. They finished best in both percent diversion and pounds per capita among participating Big 12 universities. The rank among ALL participating institutions rose from 85 in 2018 to 54 in 2019. Congratulations to all who participated.
| | | |
| --- | --- | --- |
| Diversion | Rank | Percent |
| Big 12 | | |
| Kansas State | 54 | 43.4 |
| Texas | 77 | 37.3 |
| West Virginia | 104 | 28.0 |
| | | |
| Per Capita | | |
| Big 12 | | |
| Kansas State | 55 | 14.6 |
| West Virginia | 106 | 9.2 |
| Texas | 113 | 8.5 |
| Texas Tech | 140 | 6.3 |
| Iowa State | 158 | 5.2 |
Acacia fraternity members assist K-State recycling program
The K-State recycling staff thanks the members of the Acacia fraternity who assisted with a recent waste audit program with the recycling department.
They sorted through 218 pounds of refuse and diverted 18 pounds — or 7 percent — of recycling material from entering the landfill station.
This is the beginning of a great tradition to keep the drive moving throughout the year in support of the K-State recycling program. Your time and dedication show a great effort and is very much appreciated by all.
K-State wins regional Food Recovery Challenge award
Kansas State University was named a winner of a 2018 Food Recovery Challenge award for Region 7 by the U.S. Environmental Protection Agency.
For decades, K-State Housing and Dining Services has focused on preventing food waste through vendor partnership, precise purchasing, production controls and creative menu writing. A coordinated program among Housing and Dining Services, Division of Facilities Recycling, the K-State Student Union, the College of Agriculture and agronomy department has assisted with the collection, transportation and facilitation of compost from campus organic matter. On-campus composting facilities provide an educational laboratory for students and faculty. Vessel and windrow composting methods are utilized. View a video of K-State's composting program.
In addition, students in various academic programs are educated on methods of food waste reduction in all aspects of the food system, from production to consumption.
"While we all are aware of the positive sustainable impact we can have by reducing our food waste, we also need to realize the educational benefit it provides our students," said Kelly J. Whitehair, administrative dietitian in Housing and Dining Services and instructor in the food, nutrition, dietetics and health department. "Students are the reason we are here as faculty and staff. Knowing that our efforts can demonstrate positive outcomes to them and that we are hoping to extend the beauty of our environment for future generations makes all of the work worth it."
These collaborative efforts have provided for ever-increasing prevention, capture and reuse of food waste materials. The university saw a 16.3 percent increase in food recovered on campus from 2016 to 2017. The opening of a student-focused food pantry, Cats' Cupboard, added an additional outlet for edible food items from campus entities. These efforts not only provide an environmental benefit but a financial one as well. The diversion of 58 tons of inedible food waste, such as vegetable preparation scraps, from the landfill saved nearly $3,000 in landfill tipping fees last year as well as provided rich organic matter for campus landscaping and gardens.
Read more about the award online.
Beta Theta Pi members assist K-State recycling program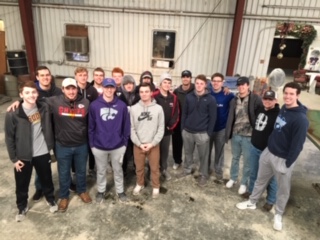 The K-State recycling staff thanks the 17 members of the Beta Theta Pi fraternity who spent their afternoon on Dec. 9 before finals week working on a waste audit program with the recycling department.
They sorted through 283 pounds of refuse and diverted 124 pounds — or 43 percent — of recycling material from entering the landfill station.
This is a great tradition to keep the drive moving throughout the year in support of the K-State recycling program. Your time and dedication shows a great effort and is very much appreciated by all.
K-State's recycling growth sets the bar for other Big 12 schools
By William Ridge
Dec 7, 2018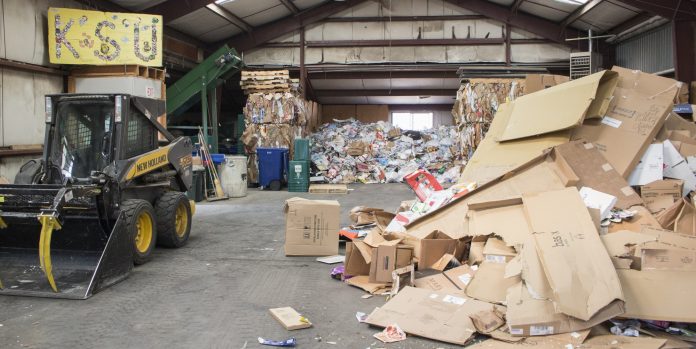 Recyclable materials are sorted into different piles at the K-State Recycling Centers on March 10, 2016. (Miranda Snyder | The Collegian)
In 2012, K-State Recycling only processed around 1.3 million pounds of recycling material. Their diversion rate, which represents the amount of waste that is diverted from a landfill for recycling, was only 17 percent of all refuse.
Since then, the center made the push to single source all recycling. Bill Spiegel, Recycling Center facility supervisor, said even though they tried to make recycling easier, the center still faced challenges.
"We separated white paper, magazines, newspaper, aluminum cans, plastic bottle—we separated everything. Even though we separated all those things, we still had roughly 20 percent contamination where people threw other materials and other things into recycling," Spiegel said.
This led Spiegel to involve himself and the center with the Student Governing Association, Students for Environmental Action, Panhellenic life and the university administration.
"I asked them all, 'How can I make recycling easier for you? How can it be more convenient?'" Spiegel said.
Based on that feedback, Spiegel and the center turned to a single-stream, or one bin recycling, plan for on campus recycling
"When we made that change, our numbers exploded because it not only made it easier for people on campus to recycle, but it was easier for custodians on campus to empty the recycling bins," Spiegel said.
This method of recycling was adopted throughout campus, including Housing and Dining Services, Athletics and university administrative operations.
After five years of this system, the K-State Recycling Center increased recycling to over 2 million pounds and increased its diversion rate to nearly 33 percent.
With the increase of recycling at Kansas State in terms of mass, the Recycling Center has seen growth as well. Starting in 2011, when Spiegel began working for K-State Recycling, the center had none of the dumpster-like blue recycling bins that now populate the center.
"We went from none to six, then six to 12, and now we have 20 out here," Spiegel said. "They're being filled all the time because we make it convenient for students and faculty to use."
When Spiegel began, the center didn't recycle glass either. In 2012, the center recycled 22,000 pounds of glass. By 2017, that number grew to 127,000 pounds of glass annually.
The growth of the Recycling Center in the last several years has garnered national recognition for K-State. In the Recyclemania competition, a voluntary competition between colleges that takes place between February and March, K-State placed 35th in the nation in total recycling and has been the highest ranked university out of all Big 12 universities four out of the last five years.
"Our biggest competition is the University of Texas, which is nearly three times larger than us, but we keep up with them real well," Spiegel said.
A big part of Recyclemania is the competitive aspect of it, Spiegel said.
"That university about 100 miles to the east of us, they don't do 2/3 of what we do, and we do it with a lot less. That's what it's all about, that's what makes us K-State," Spiegel said.
Spiegel said even though he knows he can't persuade everyone to recycle, his goal is to make recycling as easy as possible for everyone on campus.
"The bins here at the Recycling Center are here and available 24-hours a day," Spiegel said. "On any given day, it's like a drive through. People are always coming around to drop off their recyclables in the bins. Once you get the word out and make it easy for people, they don't mind doing it."
Related:
K-State's recycling program is among the best. Meet the man behind it.
Reduce, reuse and recycle at the Union
Recycling at the K-State Student Union involves more than a few pieces of paper and soda bottles. Union recycling bins are located throughout the building and can accept plastics No. 1-7, aluminum, tin and paper products.
Not sure if your trash is recyclable? Here are a few common examples of recyclable materials frequently found in the Union:
Plastic soda bottles, including lids.
Paper soda cups and straws.
Glass beverage bottles, including lids.
Unused napkins.
Cup carriers (cardboard trays).
Restaurant packaging, including:

Chick-fil-A paper bags.
Radina's cups, lids and cup sleeves.
Call Hall at the Union cups.
Fast Track containers.
An additional university recycling bin is located outside the south entrance.
The Union Recycling Committee encourages everyone to think about what can be reduced, reused or recycled before simply tossing it in the trash. During fall 2018 move-in, K-Staters recycled 13.83 tons of recyclable material. Take it even further by upcycling. Upcycling doesn't have to be complicated — it can be as simple as donating clothes you no longer want rather than tossing them in the dumpster. If you're ready to put this principle into action, donate new or lightly-used business professional attire to the Career Closet in the Berney Family Welcome Center. Food and hygiene items for the Cats' Cupboard food pantry can be left in the donation box to the right of the Cats' Den entrance. It doesn't take much to help the environment as well as your fellow Wildcats.
K-State recycling reaches out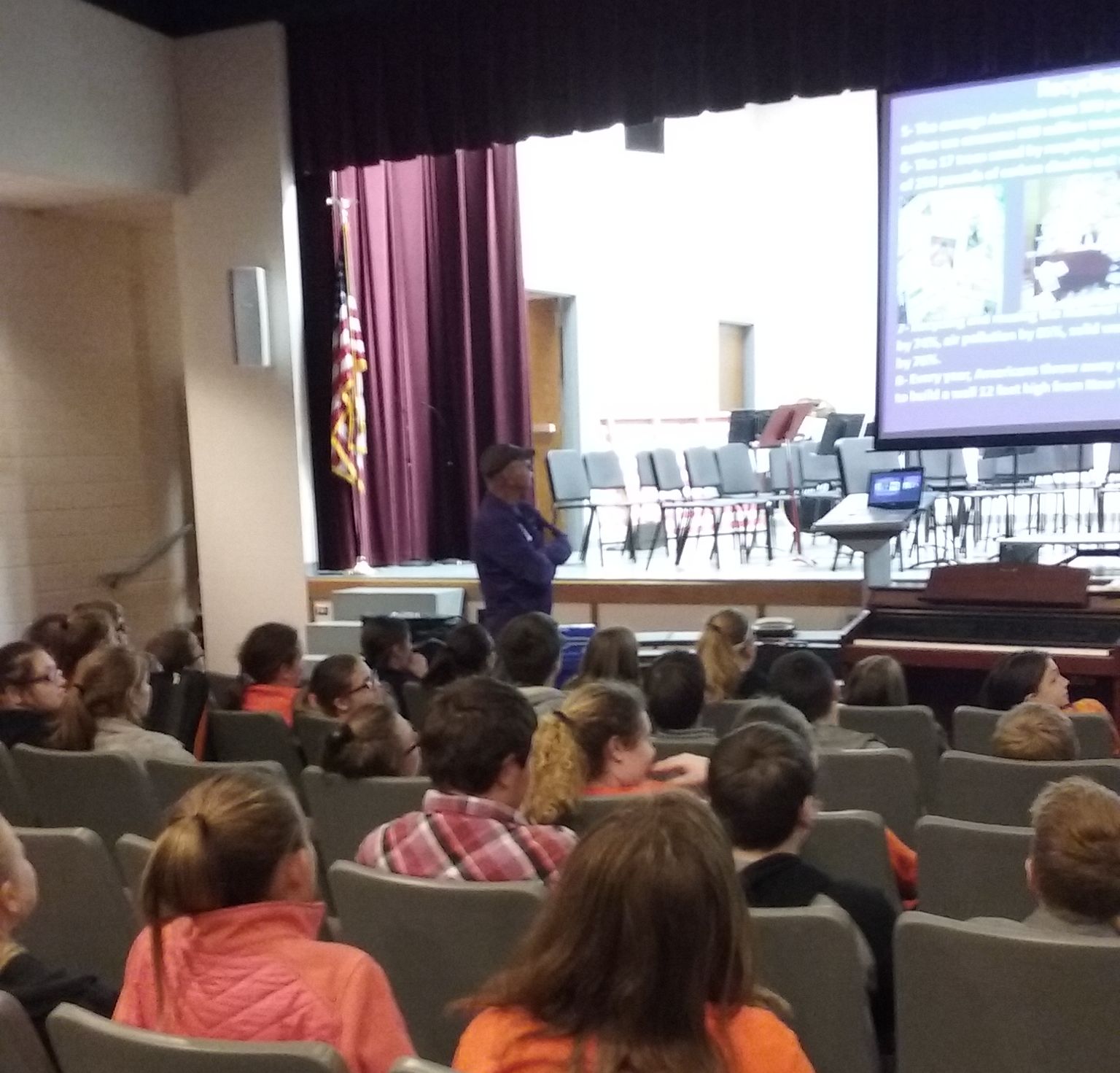 Bill Spiegel, K-State recycling supervisor and member of the Kansas Organization of Recyclers, gave a presentation to students in the Onaga school district in recognition of America Recycles Day.
The school forum, sponsored by the Pottawatomie Recycling Committee, suggests ways schools can reduce solid wastes and also effectively recycle in the area.
Spiegel helped students understand their responsibility in taking care of the environment now and in the future.
"It is so easy to say recycle; however, that has changed rapidly," Spiegel said. "Students need to understand their role in reducing solid waste and how to reuse or repurpose things as well as effective recycling techniques."
Overall, 531 students in first through 12th grades were taught the effectiveness of a school-based recycling program.
Beta Sigma Psi fraternity members assist K-State recycling program
The K-State recycling staff thanks the 14 members of the Beta Sigma Psi fraternity who spent the afternoon of Sunday, Nov. 11, working on a waste audit program with the recycling department.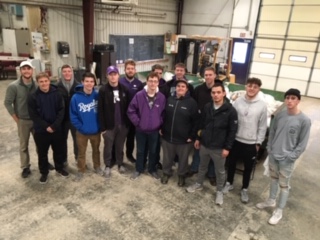 They sorted through 425 pounds of refuse and diverted 92 pounds — or 21.6 percent — of recycling material from entering the landfill station.
This is a great tradition to keep the drive moving throughout the year in support of the K-State recycling program. Your time and dedication show a great effort and is very much appreciated by all.
Recycling Center organizes recycling effort for 451 mattresses
The K-State Recycling Center is passionate about recycling and works with K-State departments to ensure old recyclable materials find renewed beginnings. The center recently worked with Housing and Dining Services to recycle 451 mattresses.
Though the center can recycle aluminum cans, paper, cardboard, glass and more, mattresses are a bit more difficult. Nevertheless, the recycling coordinator found an organization in the Greater Kansas City area that agreed to pick up, sanitize and redistribute these mattresses to children in need at no cost to the university. A team from Housing and Dining Services assisted in loading the 451 mattresses in the three-hour process. A job well done!
K-State Recycling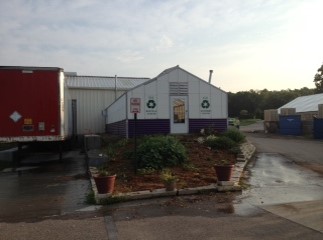 The Recycling Program (PDF) started in 1989 and is coordinated through the Division of Facilities. Grants from the Kansas Department of Health and Environment (KDHE), Alcoa, Pepsi, Coca Cola, and City/University funds made it possible to purchase recycling equipment, such as trailers, a side-load collection truck, collection bins, carts, and balers to process the material.
In 1998, the K-State Recycling Committee was formed, comprised of faculty, staff, student and Division of Facilities representatives. The committee's goal is to help expand recycling efforts across the campus and by doing so, create a more environmentally friendly campus, minimize the waste stream and decrease waste management costs.
In 2008, the former Wind Erosion Research building was damaged by a tornado and in 2012 became the new K-State Recycling Center.
---
---