August 27, 2018
Help us reimagine a stronger K-State
Submitted by Charles Taber and Pat Bosco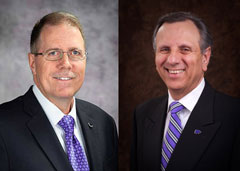 Dear Students,
Welcome to the new academic year! We hope you're ready for a great semester. Whether you are here for your first semester or returning yet again, please know that we very much appreciate your decision to join the Wildcat family!
Over the summer, many faculty and staff worked hard on a comprehensive effort reevaluating K-State's approach to recruiting students and finding ways to increase enrollment. We partnered with the Huron Consulting Group to study the issues surrounding enrollment and established a universitywide Strategic Enrollment Management, or SEM, Steering Committee. We are reimagining directions for recruitment, financial aid and student retention and success through primary market research, an intensive analysis of enrollment data and interviews with more than 300 stakeholders across campus — including students, faculty, staff and administrators.
The Kansas State University Strategic Enrollment Management (SEM) Plan: A Path Forward (PDF) is now available and we encourage you to take a look, ask questions, and help us move toward our goals. Our work is just beginning as seven different task forces will study and recommend the paths forward.
Our goal is to have our processes become more student-centered and ensure we serve students well throughout their K-State experience. Your voice is important to help us develop a successful, strategic enrollment plan that will make for an even stronger Kansas State University.
If you have questions or suggestions, please contact us at 2025@k-state.edu.
Go 'Cats!
Chuck Taber
Provost and Executive Vice President
Pat Bosco
Vice President for Student Life and Dean of Students