April 19, 2018
FarmHouse and K-State Proud bring you Philanthrocakes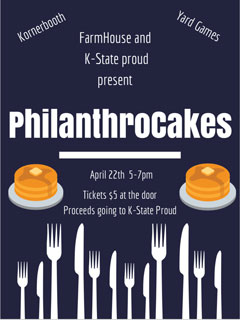 Please join the men of FarmHouse and the members of K-State Proud from 5-7 p.m. April 22 at 1830 College Heights for Philanthrocakes.
We will have pancakes galore, Kornerbooth, games and the K-State Proud booth. K-Staters will be able to learn more about K-State Proud and donate for this year's T-shirt. Proceeds will go to K-State Proud. Admission will be $5 at the door.
Bring a friend and come on over, we look forward to seeing you!