Kansas State University and Deere & Company continue research partnership
Thursday, April 19, 2018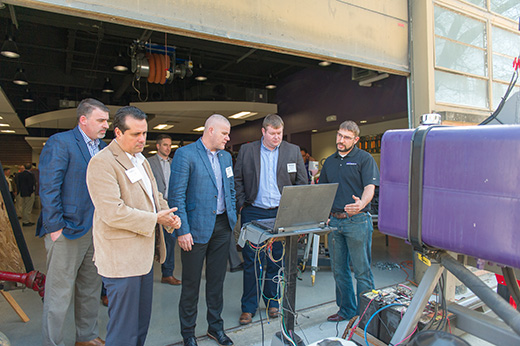 Kansas State University and Deere & Company officials met on April 17 to explore research partnerships. The university and the company recently extended a master research agreement. | Download this photo.


MANHATTAN — Kansas State University hosted Deere & Company leaders this week to explore research partnerships. Deere & Company representatives met with a number of university officials and researchers and toured facilities before reconfirming a commitment to collaborate on future projects.

Richard Myers, Kansas State University president, said the university is poised to provide expertise in a range of areas that are important to Deere.

"K-State strives to be Deere & Company's preferred partner on talent and innovation related to production agriculture and engineering," Myers said. "K-State has immense research strength and capacity in engineering systems and manufacturing as well as technologies associated with planting, growing and harvesting various crops."

Kansas State University and Deere & Company recently extended a master research agreement for another five years. According to Peter Dorhout, the university's vice president for research, master research agreements help expedite university-industry collaborations when specific research projects are identified.

"Extending our master research agreement with Deere & Company will help us provide expertise as needed to solve problems and look to the future of our global food systems," Dorhout said. "We enjoyed introducing the company to our capabilities in terms of both people and facilities and learning how these might apply to the Deere business."

Deere, founded in 1837, is a global company with headquarters in Moline, Illinois. The company's distinctive leaping deer logo is instantly recognizable on its agricultural, construction, forestry and turf care equipment. The worldwide company does business in more than 130 countries and is well known for its core values of integrity, quality, commitment and innovation.

Deere & Company has hired more than 50 Kansas State University graduates in the past six years and regularly supports students through internships and senior design capstone projects. The company is also a K-State Career Center corporate partner. John Floros, dean of the College of Agriculture, said the university's graduates and researchers are a natural fit for Deere & Company.

"Both Deere & Company and K-State have a long history of supporting agriculture and generating innovations that help producers improve their efficiency and feed the world," Floros said.

Bradley Kramer, head of the industrial and manufacturing systems engineering department in the university's College of Engineering, said his department anticipates building on past efforts.

"We've collaborated with Deere for a number of years by providing manufacturing expertise and support through our Advanced Manufacturing Institute, and we look forward to exploring additional projects," Kramer said.

Visitors from Deere & Company met with multidisciplinary researchers from agronomy, animal science, engineering and physics. They also heard presentations about relevant efforts in K-State Research and Extension, the College of Business Administration, and systems and resources related to precision agriculture. As Kansas State University's strategic partner for philanthropy, the KSU Foundation continues to lay the groundwork with Deere & Company for future partnerships that benefit students, faculty and Kansas.