April 2, 2018
Information session for 2018 Common Book Selection 'The Hate U Give' on Thursday, April 5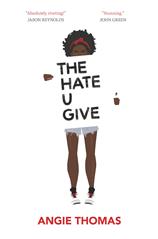 Interested in learning more about the 2018 KSBN selection, "The Hate U Give" by Angie Thomas, and how to incorporate it into your fall courses and event programming?
Faculty, staff, graduate teaching assistants and student leaders are invited to join the K-State Book Network from 11 a.m. to noon Thursday, April 5, in 227 K-State Student Union.
Members of KSBN will share resources for Thomas's book on issues such as education, family, intersectionality, community building, civil discourse and popular culture. Participants are welcome stop by at any time during the event to discuss how Thomas's book can be part of fall plans.
To receive a copy of "The Hate U Give" at the information session, RSVP by April 3 at the KSBN website.
For more information about K-State Book Network, the 2018 book selection, and resources for its inclusion in fall activities and classrooms, visit the KSBN website.