April 2, 2018
WellCAT Ambassadors to host second 'Run Fasta Eat Pasta' 5K to benefit Cats' Cupboard on April 28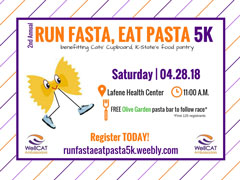 The WellCAT Ambassadors will host a run and walk at 11 a.m. Saturday, April 28, at Lafene Health Center.
The second "Run Fasta Eat Pasta" 5K run/walk will benefit Cats' Cupboard, the K-State food pantry. Come run as an individual or form a team of runners with your friends and family.
The first 125 registrants are guaranteed to receive a T-shirt and partake in the Olive Garden pasta bar following the race. Special thanks to Olive Garden, Wildcat Wellness Coalition, Dow Center for Multicultural and Community Studies, and Lafene Health Center for making this event possible.
As part of the K-State student body, we understand there are many students who experience food insecurity on and off campus. By hosting this 5K event, the WellCAT Ambassadors want to show support to the university's student food pantry by increasing awareness about food insecurity among students while helping to add to the food pantry's supply.
This event is a true reflection of WellCAT Ambassadors' mission to provide campus leadership by serving as positive role models and to aid students in making healthy decisions to be successful while in college. We hope you can come join us.
Register online at runfastaeatpasta5k.weebly.com.