March 15, 2018
Student journalists at KKSU-TV take home top honors in the Kansas Association of Broadcasters annual awards competition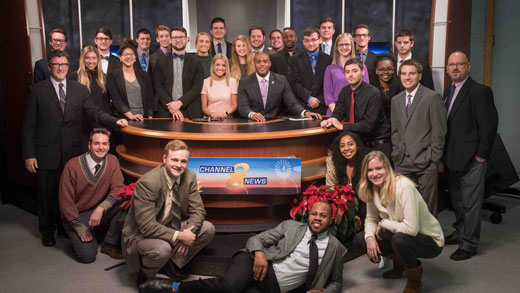 Students from the A.Q. Miller School of Journalism and Mass Communications at Kansas State University, including members of the Channel 8 News team, won top honors in this year's Kansas Association of Broadcasters student competition. Awards include the best college newscast in the state for the 2017-2018 awards season. The newscast that won the award focused on coverage of the KSUnite event in November of 2017.
"These awards show the outstanding accomplishments of students in the A.Q. Miller School," said Jean Folkerts, interim director of the A.Q. Miller School. "They are a testimony to the innovative leadership in the broadcast and digital media aspects of the program. Students who work on the live KKSU-TV program and at KSDB-FM, as well as many volunteers who participate in the program, either through classwork or practicums, are in demand in the workforce and can look forward to even greater accomplishments after graduation."
"To be honored as the top newscast in the state is a testament to the effort and journalism work the students have put in both individually and as a team," said Andrew Smith, multimedia news director and professor in the A.Q. Miller School. "While this is a learning environment, the students are creating work that truly affects those in our viewing area, both on and off campus."
Entries were taken from broadcasts of Channel 8 News and MHK All-Day, as well as promotional materials created in partnership with local businesses. Members of KAB judge entries for excellence, creativity, believability and effectiveness. Criteria include theme, phrasing, salesmanship, technical, opening and closing.
The competition includes all undergraduate members of the Kansas Association of Broadcasters from around Kansas, with 11 K-State students receiving honors from seven entries in five categories. The winners will receive their awards at the annual Kansas Association of Broadcasters Student Seminar, which this year will be on April 3 at K-State's Manhattan campus.
The following are the honorees in the Undergraduate/TV competition:
First-place awards:
• Complete Newscast: Channel 8 News: "KSUnite," Myia Hodge, producer, and Isabel Lauby, director.
• Hard News Package: "Black Student Union Supports KSUnite," Bridget Howard and Brady Budke.
• Promotional Audio/Video-Precision Agriculture: "Sharda," Eric Manougian and Patrick White.
Second-place awards:
• Hard News Package: "DACA Hits Home," Reina Garcia.
• News Feature: "Family Heritage Airplane," Evan Penner.
• Promotional Audio/Video: "Drama Therapy," Evan Penner and Reina Garcia.
Honorable mention:
• Enterprise News Package: "Mental Health and the Military," Chris Blaski.