March 15, 2018
Division of Biology welcomes David Davido to present seminar
Submitted by Division of Biology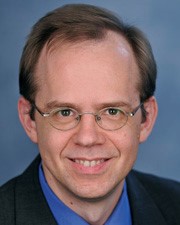 David Davido, University of Kansas, will present "To be Lytic or not to be Lytic: A Question of HSV-1-Host Interactions" as part of the Division of Biology Seminar series at 4 p.m. March 16 in 221 Ackert Hall.
Davido will talk about the viral and host factors and their interactions dictate whether herpes simplex virus type 1, or HSV-1, (i) initiates productive infection in actively dividing epithelial cells and fibroblasts or (ii) establishes latent or dormant infection in nondividing, unstressed sensory neurons, or (iii) reactivates from latency by a variety of stress stimuli. He will speak of a key factor in determining whether an infection will be lytic or latent is infected cell protein 0 (ICP0), a 110-KDa HSV-1 protein that is modified by phosphorylation and that activates the expression (transcription) of viral genes. The activities of cellular cyclin-dependent kinases (cdks) have been shown to be required for ICP0's transactivating activity and several steps in the HSV-1 life cycle. He will cover that besides acting as a transcriptional transactivator, ICP0 also mediates the degradation of cellular proteins via its E3 ubiquitin (Ub) ligase activity when associated with antiviral nuclear domain 10 (ND10) structures. He will cover that ICP0 that inhibit the effects of interferons (IFNs), which are secreted host factors that defend against viruses by limiting their spread and replication. Lastly, he will discuss how they recently isolated a neuro-attenuated mutant of HSV-1 and identified the viral gene responsible for this phenotype. My research has focused on the following questions: 1) What domains in and modifications on ICP0 regulate its various activities?; 2) Which cdks facilitate HSV-1 replication?; and 3) Is a neuro-attenuated virus an effective vaccine against HSV-1 ocular infection? Our findings and their significance will be presented.
If you would like to visit with Davido, please contact Zhilong Yang at zyang@k-state.edu.