March 15, 2018
American Ethnic Studies Showcase lectures continue today with Yolanda Broyles-González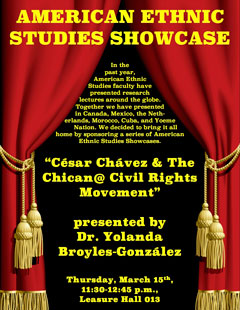 The American ethnic studies department faculty and affiliated faculty have recently presented research lectures around the globe: in Canada, Mexico, the Netherlands, Cuba, Morocco, Yoeme Nation, Australia and New Zealand.
The American Ethnic Studies Showcase lecture series began in fall 2017 in an effort to promote intellectual diversity on campus and showcase American ethnic studies in the campus community and broader community. The showcase makes it possible for K-State faculty and students to engage with cutting-edge diverse research, fostering cohesion and greater understanding of people of color.
Yolanda Broyles-González, head of the American ethnic studies department and university distinguished professor, will deliver the second showcase lecture, "César Chávez and the Chican@ Civil Rights Movement" at 11:30 a.m. Thursday, March 15, in 13 Leasure Hall. Together with Dolores Huerta, Chávez founded the United Farm Workers of America, a labor rights and civil rights organization with a worldwide resonance. Broyles-González collaborated with Chávez and has a book in preparation that focuses on the last years of his life. It includes Chávez's personal testimony and a discussion of ways Chávez evolved in the course of his life. Chávez was awarded the Presidential Medal of Freedom by President Bill Clinton in 1994 for his work as a civil rights and labor leader. This award is the nation's highest civilian award.
The following presenters also are part of the 2018 American Ethnic Studies Showcase:
April Petillo, "Native Nations (re)Building: Community Defined Development," noon April 16, 13 Leasure Hall.
Isabel Millán, "Social Justice in Chicana/Latina Children's Picture Books," 1:05 p.m. April 24, 112 Leasure Hall.