January 30, 2018
Scholar and poet Fred Moten presents on his work on Friday, Feb. 2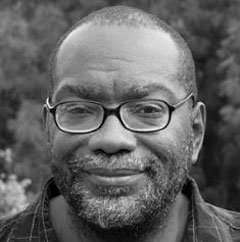 On Friday, Feb. 2, scholar and poet Fred Moten will present on his work at 4 p.m. in Leadership Studies Town Hall.
The talk, titled "Anassignment Letters," is part of the English department's 27th annual Cultural Studies Symposium. It is free and open to the public.
Moten is professor in the department of performance studies, Tisch School of the Arts, where he teaches courses and conducts research in black studies, performance studies, poetics, and critical theory. He received an artium baccalaureus degree from Harvard and a doctorate from the University of California, Berkeley.
Moten is author of "In the Break: The Aesthetics of the Black Radical Tradition" (2003), among other works of scholarship and poetry. He is also co-author, with Stefano Harney, of "The Undercommons: Fugitive Planning and Black Study" (2013) and "A Poetics of the Undercommons" (2016).
In 2016, Moten received a Guggenheim Fellowship and the Stephen E. Henderson Award for Outstanding Achievement in Poetry by the African American Literature and Culture Society. In 2014, Moten's "The Feel Trio" was a poetry finalist for the National Book Award, the Los Angeles Times Book Prize, and was winner of the California Book Award. In 2016, Moten's "The Little Edges" was a finalist for the Kingsley Tufts Poetry Award.
Cameron Leader-Picone, associate professor of English and African American literature and culture, praises Moten's contributions to current issues in scholarship and contemporary culture.
"Quite simply, Fred Moten is one of the most influential theorists in all of academia right now. His work re-theorizing Black Studies is part of a vibrant ongoing conversation across disciplines that is directly relevant to the many crises going on in the U.S. and the world today," Leader-Picone said.
Tanya Gonzalez, professor of English and director of the Cultural Studies Program, agrees, linking Moten's work to K-State's recent conversations about the legacy of Dr. Martin Luther King and about diversity on campus.
"We are thrilled to have Fred Moten visit K-State, especially in this season when we are called to remember legacies of social justice and human rights. From revisioning the way we understand higher education to illuminating how we understand a poem, Fred Moten pushes us to think beyond the status quo. His theories and writing moves us beyond the expected, and helps us imagine a more just and equitable society," Gonzalez said.
For more information about Moten's work, visit his university website. For more information about the Cultural Studies Program in the English department, visit the graduate program's website.