Giving it a spin: University contributes two collections of 78 discs to massive international digitization initiative
Tuesday, Jan. 30, 2018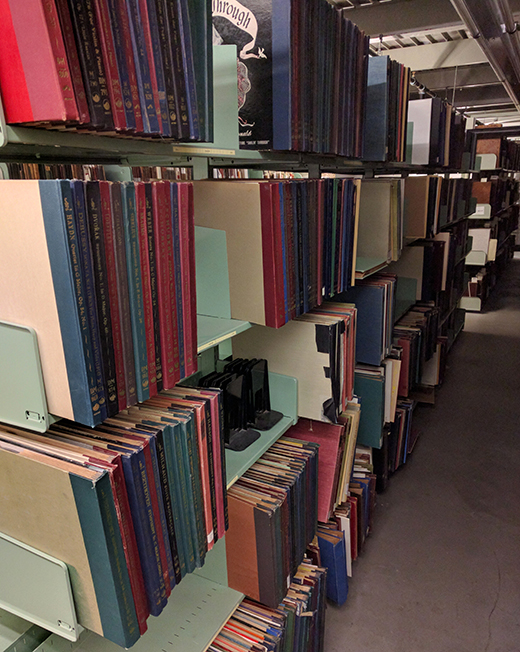 By participating in the Internet Archive's Great 78 Project, two K-State Libraries' collections of 78 rpm discs will be digitized and uploaded to the digital library's website, archive.org. | Download this photo.


MANHATTAN — More than 150 years of Kansas State University student yearbooks and newspapers are already available for free through the website Internet Archive, archive.org. Now, audiophiles will be able to enjoy two collections of K-State Libraries' 78 rpm discs there, too — along with hundreds of thousands from other institutions.

K-State Libraries are transferring a significant collection of sound recordings to Internet Archive, a nonprofit digital library, for The Great 78 Project, a substantial effort to digitize sound recordings produced on 78 rpm discs.

"Through this collaboration, K-State will be able to preserve its historic sound recording collections and make them available not only to our users but also to users around the world," said Lori Goetsch, dean of K-State Libraries.

Internet Archive offers free universal access to books, movies and music, as well as 310 billion archived web pages. The Great 78 Project aims to bring to light the decisions by music collectors over the decades and establish a digital reference collection of underrepresented artists and genres.

Faculty members from K-State Libraries' Richard L. D. and Marjorie J. Morse Department of Special Collections identified two notable collections for inclusion in the project. The first was amassed by Charles Stratton, a musicologist, pianist and Kansas State University faculty member, whose collection was donated by his estate in 1968. The second was compiled by Roger C. Smith, a former head of the university's entomology department, who donated his collection in 1971.

The collections contain a range of American and European music, including classical and popular recordings. Most of the original 78 pressings were created between World War I and II and represent both chamber and orchestral music, as well as jazz, blues, cowboy songs and sea shanties.

The Great 78 Project is currently funded to digitize 250,000 discs that will be available via the Internet Archive. George Blood Audio of Philadelphia will complete the digitization. The operation delivers 5,000-6,000 sides per month and hopes to increase its output in the near future.

"We are pleased to join the nearly 400 donors and partners who are contributing to this international endeavor," said Keli Rylance, head of the Morse Department of Special Collections.

For more information, contact the Morse Department of Special Collections at 785-532-7456. To see the digitization process, visit archive.org/details/mass78rpmdiscdigitization.