December 6, 2017
Take the weight — of a textbook — off your shoulders and get a USB
Submitted by Sarah McGreer Hoyt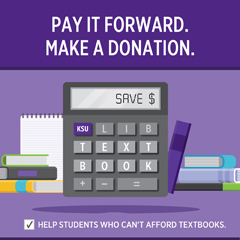 When finals are over and you want to unload your textbooks, consider an act of generosity: If you donate your gently used textbook to K-State Libraries, we'll make it available for your fellow students in future semesters. Not only that, but if your book is for one of more than 175 courses on our list, we will give you a USB drive to show our appreciation!
Donated books in good condition will become part of our course reserves collections at Hale Library and the branch libraries. K-Staters can borrow the textbooks from reserves for short periods at no cost.
Even if you don't donate textbooks, remember to check our reserves collection before you buy your books next semester! A benevolent K-Stater might have already contributed exactly what you need.
Course reserves is just one part of K-State Libraries' Textbook Affordability Project, which is working on many fronts to make college education more affordable by reducing or eliminating the cost of course materials.
For more information and to see a list of the courses that qualify for the USB gift, visit lib.ksu.edu/textbook-affordability.