December 6, 2017
Finals week at Hale Library: Caffeine, kindness and random acts of snacks
Submitted by Sarah McGreer Hoyt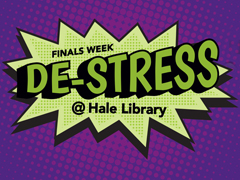 Join us in Hale Library this week for caffeine, kindness, de-stress activities and random acts of snacks. Our schedule is quite a bit different from previous semesters, so read this carefully! It will be on the test!
Random Acts of Snacks will take place throughout the week. Library staff will work their way through Hale Library to distribute snacks and encouragement courtesy of Goodcents Deli Fresh Subs and Varsity Donuts.
Need to take a quick break to relax the ol' brain muscle? Visit our De-Stress station near Library Help to grab coloring pages and pencils, Sudoku, word searches and more.
Finally, there are three dates for Caffeine Fix. Times and offerings vary:
Free Einstein Bros. coffee and bagels, Jimmy John's sandwiches and hot chocolate from the Union Program Council will be handed out 6-8 p.m. Monday, Dec. 11, on Hale Library's second and fourth floors.
Free Einstein Bros. coffee, tea and hot chocolate will be handed out 3-5 p.m. Tuesday, Dec. 12, and Wednesday, Dec. 13, on Hale Library's second floor.