December 6, 2017
Horticulture Club to host mini poinsettia sale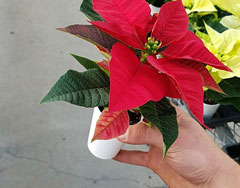 The K-State Horticulture Club, a registered student organization, will host a mini poinsettia sale from 10 a.m. to 1 p.m. Wednesday, Dec. 6, and Thursday, Dec. 7, at the K-Sate Student Union.
Mini poinsettias can be boxed up and make great seasonal gifts. The sale will include bright pink and white poinsettias for $4 and standard red, pink and white poinsettias for $5. Buy three and get one free on all plants.
Cash or credit card will be accepted. Proceeds benefit Horticulture Club activities.
Contact connick@k-state.edu with any questions.