Top 10, by design: Kansas State University's interior design program ranks eighth in nation
Wednesday, Dec. 6, 2017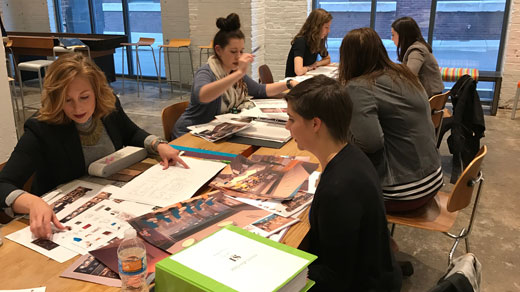 Kansas State University students in the interior design program present their projects to industry professionals in Kansas City. The program is among the top 10 in the U.S. according to rankings from DesignIntelligence.

MANHATTAN — Kansas State University's interior design program continues to be one of the best in the U.S. According to the 2017-18 rankings from DesignIntelligence, the interior design program ranks eighth among all undergraduate programs and third among undergraduate interior design programs at public universities.

DesignIntelligence ranked the programs based on survey responses from 2,654 hiring professionals who answered the question, "From your hiring experience during the last five years, which programs are best preparing students for a future in the profession?"

The university's interior design program is the only program in the state for students who want to earn a four-year baccalaureate degree accredited by the Council for Interior Design Accreditation.

"We are pleased that our interior design program graduates continue to be ranked among the best in the country," said Barbara Anderson, head of the apparel, textiles, and interior design department, which is in the College of Human Ecology.

"The perceived quality of graduates and alumni of the College of Human Ecology's interior design program reflects their hard work and the intentional way the interior design faculty teach about the profession," said Bryan Orthel, faculty member and interior design program coordinator. "Our curriculum integrates the technical knowledge a designer needs to know alongside the practical know-how for solving design problems."

One important way interior design students are prepared for the profession is through engagement with alumni and professionals at the annual ATID Student Symposium. The symposium brings alumni and practicing professionals to the Manhattan campus for networking, professional panels, and informal dialogue with current students. The next symposium will be April 12-13, 2018. Most symposium events are open to the public.
DesignIntelligence is an independent company focused on the design and construction industry. It publishes DesignIntelligenceQuarterly four times per year, including the results of an industrywide survey of design professionals released in its third-quarter edition annually.