October 19, 2017
K-State named a finalist for Association for Public and Land-grant Universities award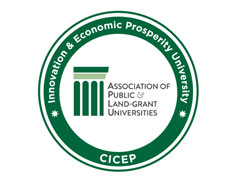 Kansas State University has been named a finalist for the Innovation and Economic Prosperity Universities Awards Program. The Association of Public and Land-grant Universities Commission on Innovation, Competitiveness and Economic Prosperity, or APLU CICEP, administers the program. K-State is a finalist for the Innovation award.
Only institutions that have received the Innovation and Economic Prosperity University designation from APLU CICEP can compete for the awards. K-State achieved the designation earlier this year.
The Innovation award honors institutions that demonstrate outstanding work in technology transfer, entrepreneurship and business development. The award application highlighted K-State Knowledge Based Economic Development partnerships with Manhattan and private sector organizations that have resulted in the creation of hundreds of jobs in the area as well as activities of the Center for the Advancement of Entrepreneurship and the K-State Institute for Commercialization.
Award winners will be announced on Nov. 12 at the APLU annual meeting in Washington, D.C.