October 19, 2017
Oct. 20, final Food Truck Friday for 2017: Tasty Traveler and Mr. K's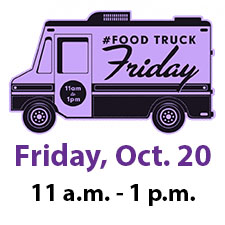 Mr. K's and Tasty Traveler will be featured in the final Food Truck Friday for 2017, from 11 a.m. to 1 p.m. Friday, Oct. 20, in the K-State Office Park — new home of Powercat Game Day.
You will find local favorites, Mr. K's with their wraps and flatbread and Tasty Traveler with bierochs and cheesy hushpuppies — and all future K-State Office Park Food Truck Fridays — at the KSU Foundation Building on the corner of Denison and Kimball avenues, across from the Headquarters Fire Station and the K-State Recreation Complex fields.
Stay up-to-date with K-State Office Park news and more at ksiteonline.com.
As K-State's strategic partner for philanthropy, the KSU Foundation inspires and guides philanthropy toward university priorities to boldly advance K-State family. The foundation is leading Innovation and Inspiration: The Campaign for Kansas State University to raise $1.4 billion for student success, faculty development, facility enhancement and programmatic success. Visit ksufoundation.org for more information.