September 18, 2017
Kansas State University Innovation Lab hosts Capitol Hill event around ending global hunger
Submitted by Kira Everhart-Valentin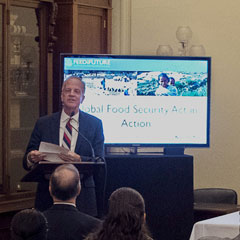 The Feed the Future Innovation Lab for Collaborative Research on Sorghum and Millet was host to a Capitol Hill breakfast on Sept. 13 in Washington, D.C.
Focused on the "Global Food Security Act in Action: Research to End Hunger," the breakfast saw attendance of a variety of senators, staffers, government officials, university researchers, nongovernmental organizations, foundations and private industry.
Opening remarks were made by Mark Green, USAID administrator; Kansas Sen. Jerry Moran; Beth Dunford, the assistant to the administrator at the Bureau for Food Security and USAID; Brady Deaton, acting chairman of the Board for Food and Agricultural Development; and John Floros, dean of the College of Agriculture and director of Research and Extension at Kansas State University. The breakfast took place the Senate Agriculture Committee Room, of which Kansas Sen. Pat Roberts serves as chairman.
The day's event was focused on highlighting the role of agricultural research in global food security, exploring issues such as upstream research and agricultural productivity, achieving nutritional outcomes through agriculture and reducing smallholder risk while building resilience. An expert panel on such topics featured Ed Buckler, professor at Cornell University and research scientist for the USDA-Agricultural Research Service; Marianne Bänziger, deputy director-general for Research Programs at the International Maize and Wheat Improvement Center; and Patrick Webb, professor at Tufts University and director of the Feed the Future Innovation Lab for Nutrition. It was moderated by Timothy Dalton, professor at Kansas State University and director of the Sorghum and Millet Innovation Lab.
The Hill breakfast was part of two days of other food security-related meetings in Washington, of which the Sorghum and Millet Innovation Lab served as co-organizer. These included a Board for International Food and Agricultural Development public meeting, and an Innovation Lab Council directors' meeting. These meetings were attended by three other Kansas State University Feed the Future Innovation Labs: the Sustainable Intensification Innovation Lab, the Applied Wheat Genomics Innovation Lab and the Reduction of Post-Harvest Loss Innovation Lab.