September 18, 2017
Fall 2017 speaker series How I Landed My Job to begin Sept. 25
Submitted by Division of Communications and Marketing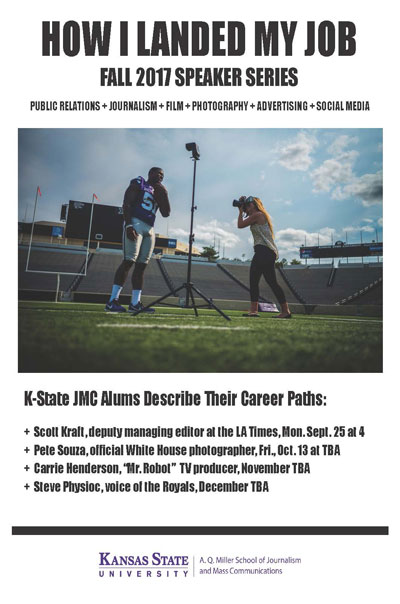 The A.Q. Miller School of Journalism and Mass Communications will host a fall speaker series, How I Landed My Job, for K-State alumni to describe their career paths.
The series will include:
• Scott Kraft, deputy managing editor at the Los Angeles Times, 4 p.m. Monday, Sept. 25, in the Kedzie Hall library.
• Pete Souza, official White House photographer, Friday, Oct. 13, time TBA.
• Carrie Henderson, "Mr. Robot" TV producer, November, date and time TBA.
• Steve Physioc, voice of the Kansas City Royals, December, date and time TBA.
The lectures are free and open to the public.