September 18, 2017
College of Business hires Risa Langelo to lead recruiting efforts
Submitted by Brent Fritzemeier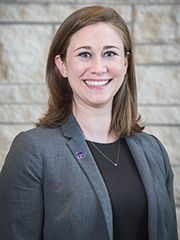 The Kansas State University College of Business has recently hired Risa Langelo as its new recruitment coordinator.
In her role, Langelo will be responsible for the development and implementation of a recruitment strategy for all undergraduate programs in the college. She also will be an advisor to the student ambassador program, represent the college at various recruitment events, and work to build and maintain relationships with high school educators and counselors from around the state and region.
"We are very excited to welcome Ms. Langelo to our Student Success Center team and back to Kansas State University," said Bente Janda, assistant dean for student services. "She brings with her valuable recruiting experience from multiple academic institutions, and exemplifies a level of professionalism characteristic of the College of Business."
Langelo comes to the college from the University of Nebraska, where she was an assistant director in the office of admissions. She is a 2015 graduate of Kansas State University, with a Master of Science in counseling and student development. During her time as a graduate student at K-State she worked as a graduate assistant for the Career Center, as well as a practicum student in both the office of undergraduate admissions and new student services
Students interested in learning more about the College of Business can visit cba.k-state.edu, or email cbarecruiting@k-state.edu.