April 11, 2017
Get involved in K-State Green Week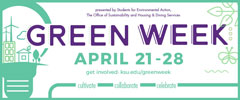 K-State Green Week is April 21-28. "Green" students and campus groups are encouraged to participate! Head to ksu.edu/greenweek to volunteer or promote your organization during the week.
Research groups, student organizations, departments and programs are all welcome. Please complete the organization interest form by Monday, April 17, to promote your organization or educate on campus during Green Week.
For the full event schedule and all things green, please visit ksu.edu/greenweek.