April 11, 2017
College of Veterinary Medicine presents research excellence award to Ying Fang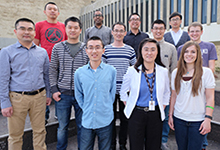 The College of Veterinary Medicine has presented the 2017 Zoetis Animal Health Award for Research Excellence to Ying Fang, professor of molecular virology in the diagnostic medicine and pathobiology department.
The award, the college's highest research honor, was presented as part of the recent annual Phi Zeta Research Day activities.
Fang has been involved in the study of molecular pathogenesis of porcine reproductive and respiratory syndrome virus, or PRRSV, for more than 18 years. She also has active research projects on other important veterinary and human pathogens, including influenza virus, coronaviruses, porcine circovirus and most recently, collaborative projects for emerging and foreign animal infectious disease pathogens.
Her laboratory has well-established technologies and systems for swine vaccines and diagnostic assay development. Fang's research activities have contributed to the receipt of more than $8 million total in extramural research support from various funding agencies from 2005-2017, including the U.S. Department of Agriculture, National Institutes of Health, National Pork Board and industry partners. In collaboration with other researchers, she has published more than 60 papers in peer-reviewed prestigious journals and has been invited to give more than 50 presentations by various universities, industries and professional conferences. She was honored as a keynote speaker at the 2015, 2013 and 2008 International PRRSV symposiums.
Fang has served as a session moderator, co-chair and member in organizing/scientific program committees for various national and international conferences. Currently, she serves as a co-chair and organizer for the 14th International Nidovirus Symposium in June 2017. In addition, she was invited to lead three teams of scientists to China to provide consultations to industry and academic professionals regarding problems with molecular epidemiology, vaccine and diagnostic test development for animal infectious diseases.
"I am very humbled by this honor," Fang said. "I believe the establishment of productive and mutually beneficial scientific collaborations is essential to the development of a strong research program. Besides research activities, I have really enjoyed supervising and teaching undergraduate and graduate students. I am currently mentoring one postdoc, three visiting scientists, four graduate students and two undergraduate students, as well as serving on five graduate student committees, which has kept me busy but has been very rewarding on a personal level."
"Dr. Fang is one of our outstanding 'triple-threat' faculty members: brilliant in research, teaching and service," said Frank Blecha, associate dean for research in the College of Veterinary Medicine. "She has supported her research program with $8 million of research funding and technology licenses, is extensively involved in graduate student and postdoctoral scholar training and education, and has been developing new diagnostic reagents and assays to serve the needs for swine industry."
Fang's many honors include the Distinguish Researcher Award in 2013 at South Dakota State University, Intellectual Property Commercialization Award in 2010, Dean's Research Award in 2006 and research paper award in 2004. She earned a master's degree in biology at Iowa State University in 1997 and a doctorate in microbiology from South Dakota State University in 2004. Fang joined the K-State faculty in 2013.