April 11, 2017
Skydive from the Supervan: Registration open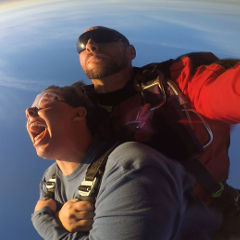 Join the K-State Parachute Club April 28-30 for its Spring Supervan Weekend in Abilene. The club will offer tandem skydives from 14,000 feet out of the 900 horsepower Cessna 208 Super Caravan for a total free fall time of more than 60 seconds.
Registration for the Supervan Weekend is available online.
The K-State Parachute Club is the only collegiate club in the nation that operates a full-service skydiving center. The club is a United States Parachute Association member drop zone, and utilizes only USPA-certified instructors and approved training methods.
See the frequently asked questions page, and email info@skydivekstate.com if you have any other questions. Registration in advance is preferred; however, walk-ins are welcome.
To skydive, you must be 18 or older, in good physical condition, and under the club's 220-pound weight limit. This is not a passive amusement ride, and instructors reserve the right to refuse service to anyone they feel cannot safely participate.
Not interested in jumping? Spectators of all ages are welcome to attend the event. Experienced skydivers from across the Midwest will make upward of 50 jumps per hour. Come watch, and learn about the exciting sport of skydiving.