April 11, 2017
Adjunct K-State geographer from France to discuss detecting grapevine disease using UAVs and remote sensing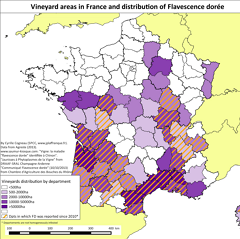 Anne Jacquin, research professor from the University of Toulouse, Purpan School of Engineering, and the French National Institute for Agricultural Research, will give a public lecture at 11:30 a.m. Thursday, April 13, in 328 Waters Hall.
Jacquin will discuss the application of unmanned aerial vehicles and remote sensing to develop multispectral indices capable of detecting the flavescence doree grapevine disease in the vineyards of France.
Undergraduate and graduate students interested in natural resources, environmental science and sustainability issues are especially encouraged to attend. Her talk also will be of specific interest to remote sensing researchers and those investigating the detection and spread of agricultural diseases.
Jacquin's visit to Kansas State University is being sponsored by the geography department and natural resources and environmental sciences secondary major with support from the Office of International Programs.