March 27, 2017
Five days remain to donate to K-State United Way campaign
Submitted by Communications and Marketing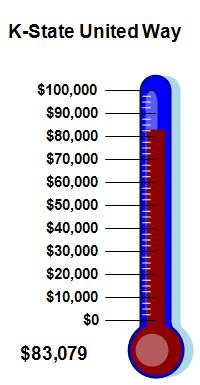 There are only a few days left this month for you to make your donation to support K-State's United Way campaign. Your donation will support the local areawide United Way chapter.
In the last few weeks alone the K-State family has raised more than $13,000 for this great organization. We are now only $16,921 away from reaching our campus goal of $100,000.
Donations are tax deductible and provide crucial support to amazing local organizations that rely on donations from K-State via United Way. These include the Crisis Center, Manhattan Emergency Shelter, Boys and Girls Club, Kansas Legal Services, the Salvation Army, Housing and Credit Counseling, Big Brothers Big Sisters, Shepherd's Crossing, Thrive! and the Catholic Charities of Northern Kansas.
As members of the K-State family, one of the most important things we can do to support these organizations and our local community is to donate to United Way this week.
Employees are encouraged to continue to donate through HRIS/Employee Self Service so efforts are counted toward the K-State United Way campaign. You can designate a gift to the United Way in your community to make sure the funds stay local.
Learn more about the campaign and how your donation makes a difference at k-state.edu/unitedway.For more information about Konza United Way and other agencies it supports, visit konzaunitedway.org.
For more information, contact the K-State United Way campaign committee at ksuuw@k-state.edu.