March 27, 2017
Reminder: Disco party April 7 and bra crawl March 28 to support K-State cancer research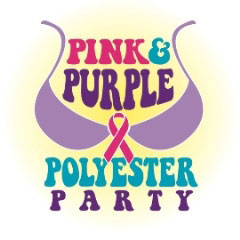 Dig out your polyester bell-bottoms and platform shoes and disco for a cure at the sixth annual Pink and Purple Polyester Party presented by CivicPlus at 7 p.m. Friday, April 7, at the K-State Alumni Center, 1720 Anderson Ave. The party benefits Kansas State University's Johnson Cancer Research Center.
Entertainment will include a live performance by Kansas City band Disco Dick and the Mirrorballs, as well as the Off the Hook bra art contest between local businesses. The party will also offer a costume contest, fun photo station, heavy hors d'oeuvres, late-night munchies and a cash bar, all catered by Della Voce.
The party's founder, Dave Lewis, Manhattan, public address announcer for Kansas State football and men's basketball, program director for KMAN radio and owner of Dave Lewis Entertainment, will emcee the party, which celebrates the life of his late wife, Elena, who died of breast cancer in 2006.
According to Lewis, the party's name conveys its theme: Pink represents breast cancer, purple represents Kansas State University and polyester represents the disco era. Partygoers are encouraged to dress in pink, purple or retro. A cash prize of $100 will be awarded for best costume.
The public is invited. Registration is requested by March 31, but late registrations and walk-ins are welcome. Cost is $60 per person or $500 for a reserved, 10-person table and sponsorship recognition. Each guest receives two drink tickets. Information and links to photos and online registration are at cancer.k-state.edu/newsevents/polyester.html.
Complementing the party will be Gaia SalonSpa's second annual Off the Hook Bra Crawl at 6-8 p.m. March 28 in downtown Manhattan. Participants will enjoy food and drink specials at six restaurants while previewing bras decorated by local businesses for the Off the Hook bra art contest that will culminate at the Pink and Purple Polyester Party. Bra Crawl tickets are $10 in advance and $15 at the door. They are available at Gaia SalonSpa, 421 Poyntz Ave., and online at offthehookbracrawl.ticketleap.com/bracrawl/.
Major sponsors of the Pink and Purple Polyester Party include CivicPlus, Central Kansas Cancer Center and Manhattan Broadcasting. Sponsors are still being sought and will receive special recognition. For information on sponsoring, contact Thad Schneider at tsschneider@wamego.net or 785-844-1144.
Organizers of the party are Lewis; Schneider and his wife Shannon Schneider, a cancer survivor, who are owners of Flint Hills Pain Management and The Storage Company; John and Cindy La Barge, owners of J&C Imaging; Bobbi French, owner of G. Thomas Jewelers; Patrick Lee, owner of N Zone and a cancer survivor; Missy Tener; and Brooke Minihan.
The Johnson Cancer Research Center supports Kansas State University faculty and student cancer research and training as well as public outreach. Its programs are made possible by private donations.