November 14, 2016
Seek and ye shall find great work at K-State
Submitted by Division of Communications and Marketing and the Office of the Vice President for Research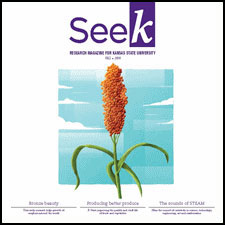 The fall issue of Kansas State University's flagship magazine, Seek, not only highlights the university's research, scholarly and creative activity, and discovery but also engages readers through sight and sound in a 42-page periodical.
The magazine highlights five feature stories:
In addition, K-State's New Prairie Press offers PDFs of the rest of Seek so readers can "See" "K"-State's research shorts, and profiles of the College of Education, a university distinguished professor who helps military families, a research scholar in search of the past for the future, a faculty member studying the art of knowledge, five patented discoveries and K-State's Research Foundation. Lastly, the magazine features sections that explains a new technology term and gives a glimpse into the university's history.
Published twice a year, Seek is a collaboration among the Office of the Vice President, the Division of Communications and Marketing and other university communicators.