November 14, 2016
Terrie R. McCants to be honored as 2016 International Educator of the Year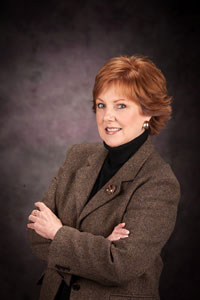 Terrie R. McCants, clinical associate professor of family studies and human services, will be recognized as the 2016 International Educator of the Year at the International Education Awards Ceremony at 4 p.m. Thursday, Nov. 17, in Hale Library's Hemisphere Room. April Mason, provost and senior vice president, will make remarks and recognize McCants with the award.
McCants is the program coordinator for the certificate in conflict resolution and the co-coordinator for the conflict analysis and trauma studies minor at K-State. She also facilitates two study abroad courses: Peace and Conflict in Northern Ireland, and Sustainable Peace in Post-Apartheid South Africa.
"McCants is truly an engaged international scholar," said Briana S. Nelson Goff, a professor in the School of Family Studies and Human Services who nominated McCants. "She not only actively pursues her own international program interests, but facilitates the engagement of her students in ways that enhance their critical thinking skills, professional knowledge, and diverse global experiences. Her international work has included Northern Ireland, Scotland, South Africa, Botswana, Kenya, Mexico and Nepal — work that reflects a truly global approach."
The International Educator of the Year award, established in 2003 by the provost's office, is presented annually to a K-State faculty or staff member, for making significant contributions to advancing international education.
"Terrie embodies every aspect of the International Educator of the Year Award," said Brett Mallon, a former K-State student and current doctoral student in peace and conflict studies at the University of Manitoba. "I feel confident in speaking on behalf of Terrie's hundreds of current and former students and the multitude of colleagues and associates when I wholeheartedly say we are eternally indebted to the incredible person who has been an instructor, a mentor and a friend."
In addition to teaching, McCants works as a mediator at the School of Family Studies and Human Services' Family Center and is the mediation coordinator for K-State.
"It is always such an honor to be nominated by colleagues," said Marcelo Sabates, associate provost in the Office of International Programs. "This recognition by your peers demonstrates your superb work to elevate international awareness on our campus."
"This is the largest nomination pool the award committee has discerned in recent years and it was very competitive representing high-profile faculty and staff from colleges across the campus," said Marcellus Caldas, assistant provost for international faculty collaborations and educational programs and chair of the International Educator Selection Committee. "This shows how engaged our colleges are in supporting and recognizing the international work being done globally right here in our classrooms and abroad."