April 18, 2016
Students use service learning to help Kansas conservation organization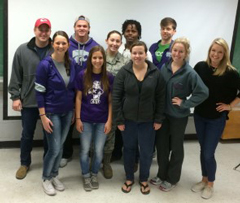 This spring, the Kansas State University Public Relations Campaigns class was split into three groups and each group was assigned an organization to run a public relations campaign on its behalf. One of the organizations was Kansas Alliance for Wetlands and Streams, or KAWS, a nonprofit agency that is dedicated to the conservation efforts in the state of Kansas. The student group worked on a semesterlong project to help promote and launch the new MarketPlace and AuctionHouse that will raise money to support its cause.
A key component of the group project is having group leaders who coordinate project activities and work side by side with their clients. The KAWS team was led by Kaylee Engle and Myranda Bower, both from Cottonwood Falls. The other team members include Collin Sexton, Abilene; Renee Douglas, Princeton; Alex Lessard, Larned; Andre Carthen, Wichita; Alyssa Smith, Minneapolis; Devin Rudicel, Lenexa; Xander Schneider, Topeka; and Michelle Wehkamp, Garden City.
Using the skills and knowledge acquired during their time at K-State, the 10 seniors worked hand in hand with KAWS to bring public awareness of not only the organization, but the two new sites it will be launching on July 1. The MarketPlace and AuctionHouse, both located at KAN-PIC.org, are designed to allow marketing of Kansas-based products and auctioning of personal and business items to promote Kansas conservation groups and projects.
This project gives students the opportunity to work with a real organization, which Nancy Muturi, professor in journalism and mass communications, feels is invaluable to their education.
"Service learning is experiential learning, you do it as you learn. But it is also a way for the students of the university to engage with the community here in Manhattan. This is also a way for them to apply what they have learned and really put theory into practice. Public relations is all about relationship building and students are playing a key role in building the relationship between the university and the communities," Muturi said.
During the course of the semester, the team has accomplished tasks such as writing press releases, public service announcements, designing flyers, social media plans, lesson plans, memos, fact sheets and FAQs.
"I am exceptionally pleased with the work the group has done for us so far. What I'm guessing is that this would be $3,000 to $5,000 worth of work if we had done this through a marketing or public relations firm and we are getting this work for free. The bottom line is, they have done great work for us and I am excited about the KAN-PIC possibilities! Looking forward to what all comes out of their fantastic efforts!" said Jeff Neel, executive director of KAWS.