April 18, 2016
Education researchers develop e-book based on footage from first-gen documentary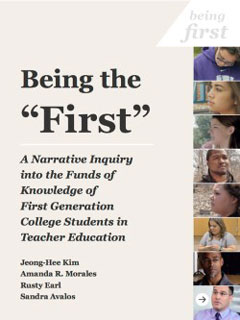 Footage from a College of Education documentary about first-generation college students provided the material for a narrative inquiry research project that culminated in an open source e-book for any educator with an internet connection.
"Being the 'First:' A Narrative Inquiry into the Funds of Knowledge of First Generation College Students in Teacher Education" was written by Jeong Hee Kim, professor of curriculum and instruction at Texas Tech University; Amanda R. Morales, assistant professor of curriculum and instruction and diversity coordinator for the College of Education; Rusty Earl, the college's videographer; and Sandra Avalos, academic advisor in the college's Center for Student and Professional Services. The e-book, published by New Prairie Press, made its debut this week at the American Educational Research Association's annual conference in Washington, D.C., where Kim and Morales were part of a panel discussion.
Dean Debbie Mercer commissioned the film, "A Walk in My Shoes: First-Generation College Students," upon learning that 40 percent of K-State students are first-generation college students and more than one-third of the college's future teachers are first gen. Nationally, about 20 percent of college students are first generation.
Morales said the e-book project took root when Mercer realized that, due to time constraints, many aspects of the participants' stories were left untold in the documentary.
"Dean Mercer reflected on Rusty's films and came to the realization that he's actually a researcher who tells stories in amazing ways," Morales said. "She learned that a wealth of footage would never see the light of day as part of the editing process, so she reached out to Dr. Kim, whose background was in narrative inquiry."
Kim, Morales and Avalos began working on the project before Kim accepted a position at Texas Tech. According to Morales, the project was labor intensive.
"Over the course of a year, we worked and sifted throughout hours and hours of data to construct the essence of who these people were and their journeys as first-generation college students," Morales said. "It shows the amazing strengths and cultural capital first-gen students have and how they have to fight and endure hardships to get to college. The book not only tells students' stories, it also provides a strong literature review and the theoretical context for understanding their experiences more fully."
Avalos said her involvement in the project was both personal and professional.
"Being a first-generation college student, I wanted to give back and somehow let others know what they could do to help students like me," Avalos said. "I hope this book helps teachers, school counselors, principals and anyone who works with youth to be aware that there are students who have no idea about how to get to college. They need someone to be a mentor for them and hold their hand — and sometimes push them — to do what's needed to prepare for college. If it wasn't for a teacher who believed in me and pushed me, I wouldn't be where I am today."
Earl said he appreciated the opportunity for his footage to have new life and access to new audiences.
"It's exciting," he said of being part of the research project. "It adds validity to the individual stories. I like the concept behind narrative inquiry, that a single person's story can be viewed as part of a greater whole. These stories will live on, and they can be used as examples for educators, academic advisors and for start-up programs for first-gen students."