September 3, 2014
Extended deadline to submit January intersession courses is Sept. 12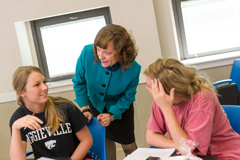 The extended deadline to submit courses for January intersession is Sept. 12. Intersession starts Dec. 29 and ends Jan. 16, 2015. Submit a class by completing the course proposal form.
Intersession is offered between university semesters and lets students concentrate on one class in a shorter, accelerated period of time. Courses are offered on campus, online and off campus through field trips and study abroad opportunities. Students can utilize accelerated courses to decrease their time to degree completion.
Contact Jo Maseberg-Tomlinson, intersession coordinator at Kansas State University Global Campus, at 785-532-2570 or jam4545@k-state.edu with any questions.