September 3, 2014
Poet Camille Dungy to read from her work on Friday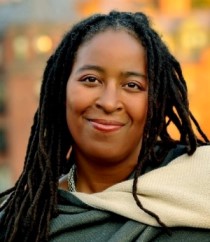 On Friday, Sept. 5, poet Camille Dungy will read from her work at 3:30 p.m. in K-State Student Union's Little Theatre.
Dungy is the author of three poetry collections: "Smith Blue," winner of the 2010 Crab Orchard Open Book Prize and a finalist for the William Carlos Williams Award from the Poetry Society of America; "Suck on the Marrow," winner of an American Book Award; and "What to Eat, What to Drink, What to Leave for Poison," a finalist for both the PEN Center USA Literary Award and the Library of Virginia Literary Award. She also edited "Black Nature: Four Centuries of African American Nature Poetry," which won a Northern California Book Award and was nominated for an NAACP Image Award.
Dungy has received fellowships and awards from the National Endowment for the Arts, the American Antiquarian Society, the Virginia Commission for the Arts, Cave Canem, and the Bread Loaf Writers' Conference, among others. She is a professor at Colorado State University.
"Camille Dungy explores the rich intersection between culture and nature," said Elizabeth Dodd, university distinguished professor of English. "Her poems group the intensity of private emotional life, the fraught history of race in America, and the fragile beauty of the more-than-human world. She is also a dynamic speaker — her reading should appeal widely on our campus and in the community."
Dungy's reading is sponsored by the English department, the Creative Writing Enthusiasts and the Konza Prairie Biological Station's Long-Term Ecological Reflections program. A book signing will follow the reading.