October 23, 2013
Fourth Kansas Hunger Dialogue to be in Wichita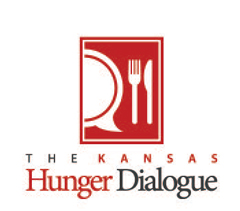 The fourth Kansas Hunger Dialogue will be Feb. 26, 2014, in Wichita. This event, organized by Kansas Campus Compact, brings together individuals to build awareness, advocacy and action about hunger through the sharing of research, best practices and model programs.
At the dialogue, campuses generate strategies and action plans for identifying campus-based initiatives.
The dialogue was developed in 2011 with a goal to build consensus agreements among Kansas colleges and universities regarding a statewide commitment to integrating hunger awareness, advocacy and action. Today, Kansas higher education remains committed to engaging college students, faculty, administrators and their neighboring communities to work together to alleviate hunger.
The primary desired outcome of the 2014 Kansas Hunger Dialogue remains increased knowledge of specific and actionable strategies for effective student-led and institution-led initiatives to take action on local and global hunger.
This year, the dialogue will place an emphasis on use of modern technology to engage communities and will include a meal-packaging event where all meals will stay with the local food bank in Wichita. Keynote speakers include Robert Egger, the founder and president of L.A. Kitchen, and Cindy Jones-Nyland, executive vice-president of marketing and resource management at Heifer Project International.
Proposals for concurrent session presenters are being accepted through Nov. 15.
To register, submit a proposal, or for more information visit the Kansas Hunger Dialogue website.
Housed on the K-State campus, Kansas Campus Compact is an affiliate of Campus Compact, a national coalition of almost 1,200 colleges and universities who are committed to fulfilling the civic purposes of higher education. Its member colleges and universities include public, private, two- and four-year institutions who are seeking to break the barrier between university and community.