October 23, 2013
K-State track offers Fall Back to Fitness Wildcat Fitness camp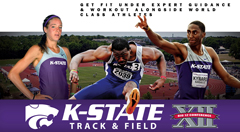 K-State track is offering another chance to get fit this fall. Wildcat Fitness Fall Back to Fitness is a camp open to any and all ages. Wildcat Fitness is an excellent opportunity for everyone to improve their fitness levels under the instruction of K-State track coaches, and former and current student-athletes.
Fall Back to Fitness will start on with a registration period at 6:30 p.m Tuesday, Oct. 29, in the northwest corner of Ahearn Field House on the track. The camp will normally run Tuesday, Thursday and Sunday from 7:15-8 p.m. in Ahearn Field House. The camp will run for four weeks, concluding on Sunday, Nov. 24.
The cost of the camp is $100, but the first 25 people to contact Coach Kyle by email at wildcatfitness@kstatesports.com will receive a discounted rate of $85. If you know in advance you will need to end the camp early or start the camp late then we will be able to pro-rate for the number of days you can participate.
Each session will consist of a warm-up, fitness activities including; core strength, overall strength, cardio work, balance, flexibility, running technique and a warm down. We can adjust daily workout plans to meet different fitness levels and we will find ways for each person to improve.
Please contact us with any questions at wildcatfitness@kstatesports.com or call 785-587-7872.
See you in Ahearn!